Legal Advice on Protection of Intellectual Properties (IP) for Corporations-Clothing & Apparel Industry: Best Corporate Lawyer in India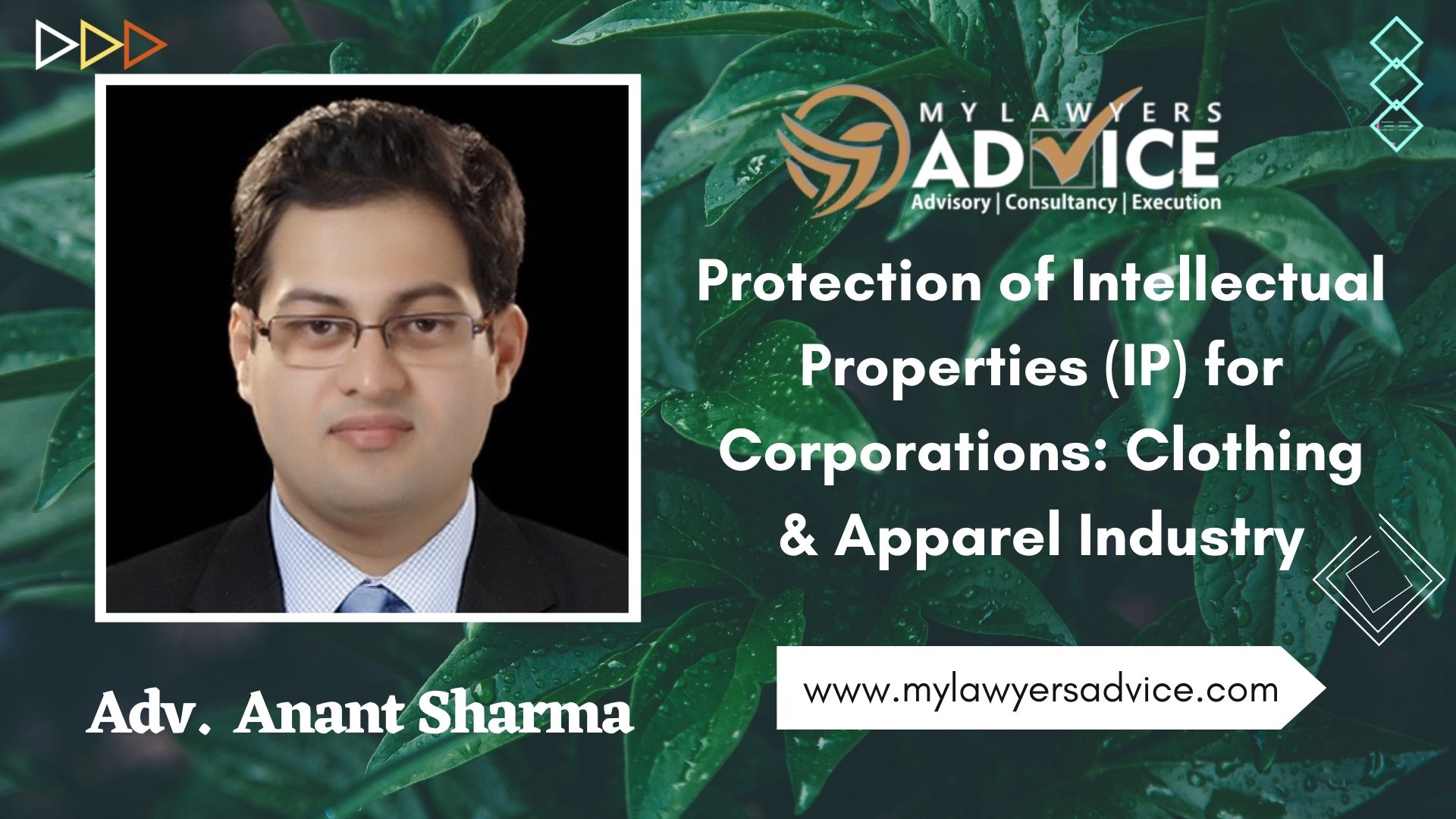 "Protection of IP in India especially in the clothing and apparel industry has been a matter of concern. The registration of the brand name, registration of the trademark, registration of copyright on the sketches and drawings and the registration of the designs is/are very important. Further, the protection of the IP is also a very challenging task and involves the expert legal advice of a good corporate lawyer."
Introduction
A thorough grasp of IPR is required to strengthen the textiles industry in terms of increased production, quality, and innovation. Innovation, originality, and uniqueness are the foundations of a successful fashion and textile industry. To date, textile and fabric innovation has revolutionised three major industries: apparel, home furnishings, and advanced textiles. Wearables are also more lasting, comfortable, and appealing thanks to the use of resistant fabrics, smart cotton, and activewear. As a result, the inventions increased the value of the textile and fabric industry's intellectual capital. Some of the ways through which a company can protect their uniqueness is through the following ways:
Trademark Registration: Trademarks are the most prominent way to differentiate one company's products and services from those of its competitors. The new trademark's uniqueness should be verified by doing a trademark browsing in Indian trademark database. The next step involves filling up and submitting the completed trademark registration application to the appropriate zonal office of the trademark register. The Madrid System for the International Registration of Marks, which offers a single process for international trademark registration in nations that are part of the system, can be used to acquire trademark protection internationally by applying effectively to each regional or national IP office in which protection is sought. Trademarks are widely used by companies in the T&A industry and play an important role in their branding strategies. In India, as Textiles and Apparel enterprises increasingly focus on building their own completely independent companies to advertise their products in both domestic and international markets, trademark protection is anticipated to become increasingly important.
Trade Secret: A method, procedure, design, instrument, trend, or collection of information utilised by a company to gain an edge over competitors or consumers is referred to as a trade secret. Protecting a list of important suppliers and customers, using exclusive software applications for fashion design, and managing the full value chain's logistics are all examples of trade secrets. Trade secrets may not be particularly efficient for safeguarding creative ideas in the designer textile and clothing segment, according to the Textile industry, because once a design is made public, it is no longer a trade secret.
Geographic Indication: Geographical indications are unique indicators, similar to trademarks, that are most typically associated with items that are tied to a certain geographical location and are protected by national laws. The Geographical Indication of Goods Act of 1999 (GI Act) protects products in a country or a region or locality within the territory when a certain quality, characteristic, or reputation of the commodity can be traced back to its geographical origin. Furthermore, the Trademarks Act of 1999 allows for the registering of collective marks held by a group of people. The owner and authorized persons have an exclusive right to use the GI and to seek remedy in the event of infringement actions under the GI Act.
Industrial Design: Industrial Designs is considered to be the most promptly appropriate IP instrument for protecting the Textile and Apparels industry's creative characteristics, enabling safety of three-dimensional drawings or prototypes, especially in capital-intensive segments like nonwovens and technical textiles. It is a concession of exclusivity to the aesthetic design of non-purely utilitarian products.
Copyright: Copyright refers to a set of rights that protects the independent expression of creativity. Ideas cannot be protected in and of themselves; copyright protection applies to the representation of ideas in a tangible medium. Copyright would also be a negative right, because the holder of it can restrict others from using his work for commercial purposes without his permission. Any work that meets the uniqueness and fixation criteria is automatically protected by copyright from the time it is created. Textile and apparel designs, on the other hand, are only partially protected under copyright laws, as copyright only protects the designs which two-dimensional of a design as a pictorial right, not the three-dimensional design, the cut of the fabric, the textile or apparel commodity, or the overall design of the skirt or jacket. The rule that primarily limits copyright protections to the category of "useful articles" is the rationale for partial protection.
The protection of intellectual properties from infringement and passing-off involves a high degree of expertise and thus the same can be only handled by an experienced Corporate Lawyer who can render adequate corporate legal solutions to the querist.
Conclusion
Stakeholders are skeptical of the efficiency of various IP rights' protection, and small and medium businesses' cost-benefit calculations typically lead them to target their limited financial resources only on developing markets and hence do not give emphasis on protecting their Intellectual rights. Larger companies place a greater emphasis on brand development and hence registering IP is really important. In the Indian Textiles and Apparel market, trademarks are still the most often used formal Intellectual instrument.
Authored By: Adv. Anant Sharma & Afsana Khan