EdTech Companies & their Regulatory Legal Framework in India: Best Corporate Lawyer Advice for EdTech Startups in India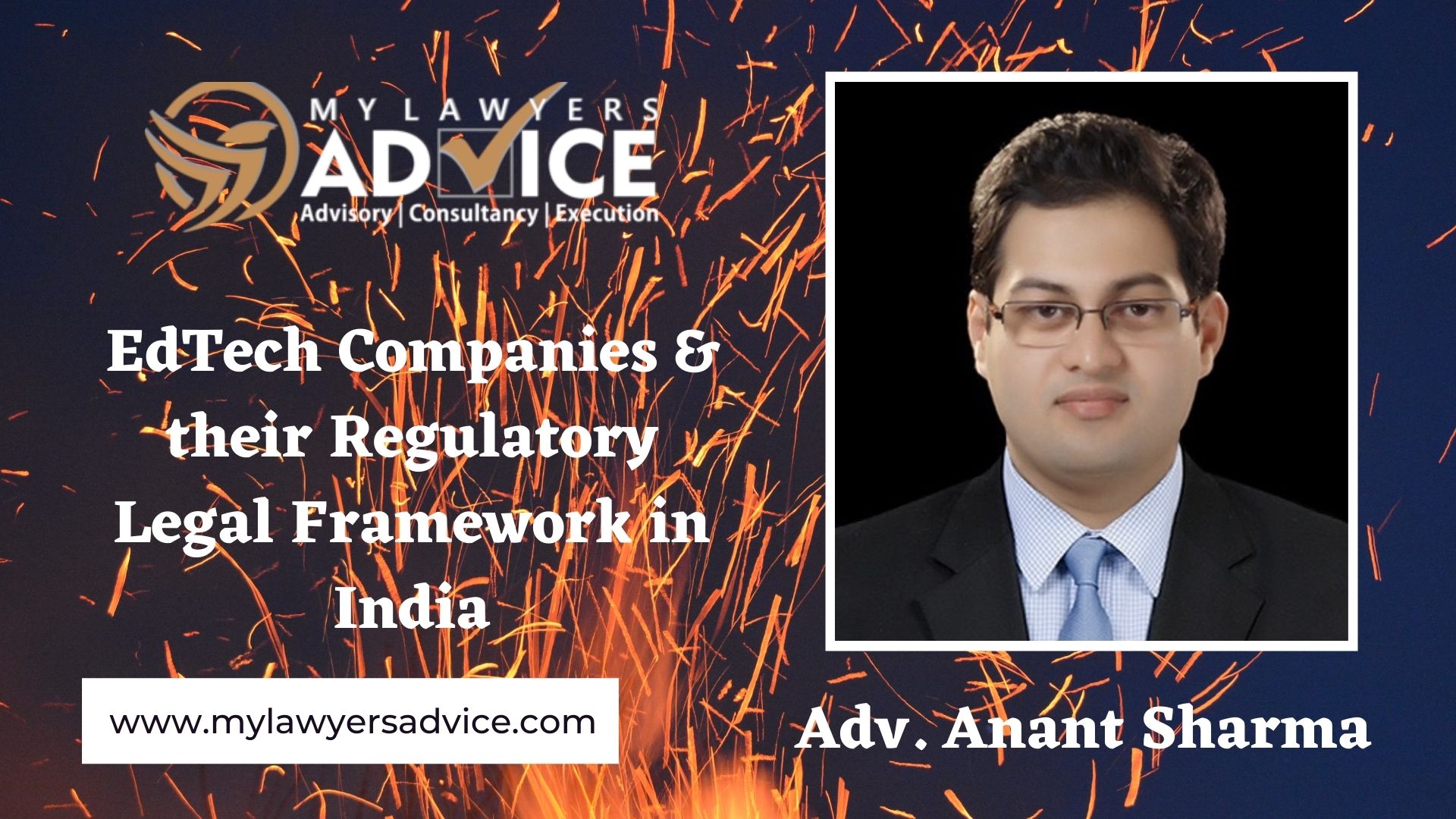 EdTech Startup Lawyer in Delhi NCR | EdTech Startup Lawyer in Delhi | EdTech Startup Lawyer in Noida | EdTech Startup Lawyer in Gurugram | EdTech Startup Lawyer in India | Legal Solutions for EdTech Companies in India | Legal Solutions for EdTech Companies in Delhi | Legal Solutions for EdTech Companies in Noida | Legal Solutions for EdTech Companies in Gurugram | Legal Solutions for EdTech Companies in Delhi NCR | Corporate Lawyer in Delhi NCR | Corporate Lawyer in Delhi | Corporate Lawyer in Noida | Corporate Lawyer in Gurugram |
"EdTech Companies and EdTech Startups in India have seen a manifold increase in their operations including a lot of inflows by way of Foreign Direct Investments in India or FDI in India. With the advent of Covid19 these EdTech Startups have seen a steep rise in the demand for their products and services. A lot of business laws and/or corporate laws are also applicable upon these EdTech startups in India."
Introduction
The year 2020-2021 will go down in Indian education history as one of the most significant in terms of regulation and industry. Indian officials have been explicit about their goal of becoming a global education center since 2020 and have taken various concrete steps to achieve that goal. All students, regardless of age or ability, can benefit from tailored lesson plans and learning experiences made possible by educational technology (Edtech) tools.
What is educational technology?
In addition to the hardware and software programs used in "remote learning," "distance learning," or "online education" there is a growing body of study into what are the most successful methods of teaching individual's new knowledge and skills. A pioneer in EdTech, CFI provides training and certification for financial services professionals and prospective professionals around the world. "Education technology" is abbreviated as "EdTech." Students and staff are taught and trained through the use of computers, computer programs, and educational systems.
The Expansion of Educational Technology
Technology in education has been around for a lot longer than the average person realizes. As technology advances, so does the use of computers in education. Copy machines and training films weren't widely used until the middle of the twentieth century in schools and training institutions. As more and better video conferencing software is developed, educational technology becomes more accessible and effective. Students can now utilize EdTech "robots" to take notes, and educators can use blockchain tools to grade student work, according to the latest advances in the field.
One Point of Concern: For young children, EdTech has many clear advantages, but there is one key issue. Many educational theorists, psychologists, and sociologists believe that pupils who only learn online will not develop the social skills that can only be learned through face-to-face interaction. Therefore, educators warn parents to schedule regular social interactions with other children, such as sports activities and field excursions, for children adopting distant learning. People are suffering from an absence of normal social contacts during the COVID-19 pandemic.
Considerations of the Law: Many new obstacles are faced by the EdTech companies as the market expands and innovations are introduced into the many areas of education and online learning. There is no single organization in charge of overseeing the EdTech sector, which is a huge problem for the industry. Despite schools working with regulators in the area to improve online learning, India does not have a law governing online education.
A state's regulations and norms are free to be established by the RTE Act if they are done following the Act. Legislation governing online education and learning can also be passed by the states. Despite this, state governments have not taken a big step forward. The Ministry of Human Resources and Development has released a new set of guidelines for school-level online education (MHRD). There are now only government programs available for providing online education because this concept is still under development. Due to Covid-19, classroom learning will be shut down for the time being. This could be a gift in disguise for government efforts to standardize rules governing the EdTech industry, which could help online education take off.
Aside from intellectual property protection, investors in the EdTech sector must also consider issues relating to data privacy, foreign direct investment regulations, and the protection of proprietary software and technology when making investments in India's sector, as well as the proposed accreditation of credentials produced by educational technology service providers.
Small edtech startups are also seen mushrooming who are trying to make their businesses run, however, are lacking in their statutory and non-statutory compliances due to lack of adequate legal advice and for want of startup legal services and startup legal solutions respectively.
Conclusion
The sector is rising, but India's market share is still low, at around 2.09 percent, despite the country currently having the second-highest number of EdTech enterprises. Government regulations and financial incentives for research and innovation in the EdTech area, as well as low internet connectivity in rural areas of India, are among the reasons limiting this industry's growth trajectory in the country. Other concerns include the lack of a central regulator for all sectors overseeing the sector, as well as insufficient coordination among multiple government committees and institutes. Investors in the EdTech industry will be able to successfully manage the sector's legal and regulatory problems with careful preparation and appropriate legal guidance.
Authored By: Adv. Anant Sharma & Aparajita Singh