The new Consumer Protection Act of 2019 & its Impact on Beauty Products and Cosmetics: Lawyers Advice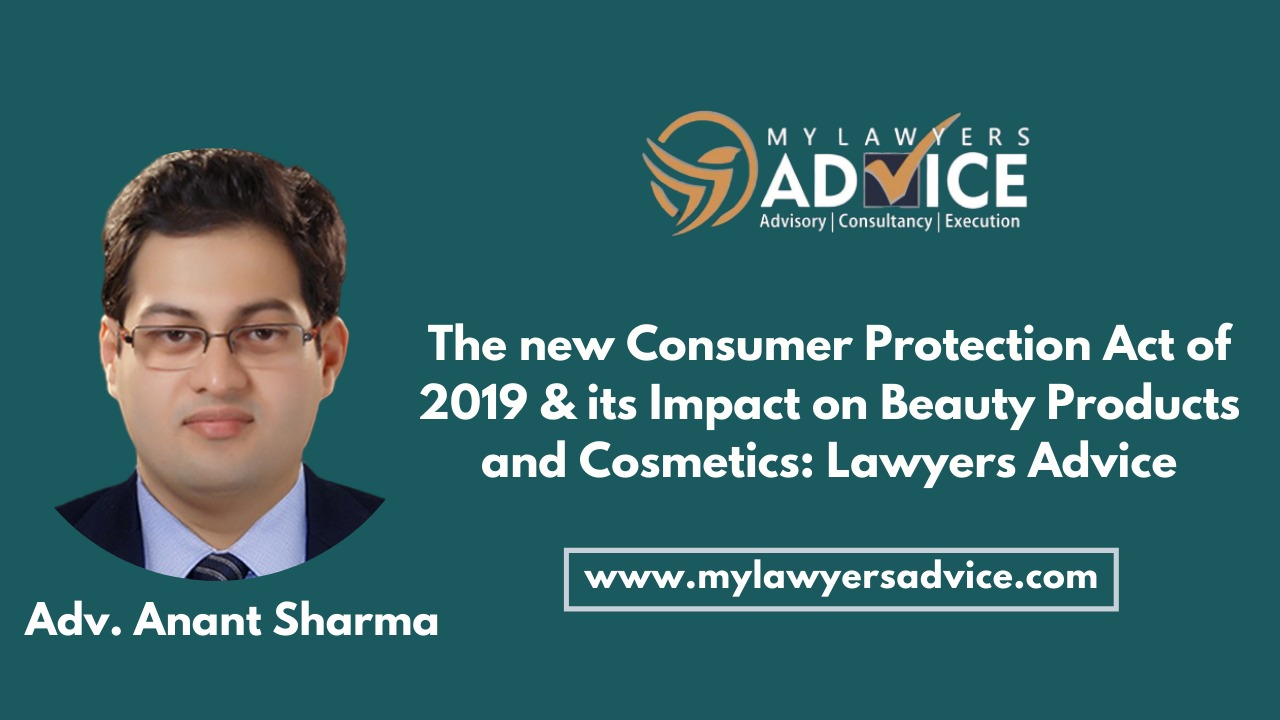 The cosmetic products in India are regulated under the Drugs and Cosmetics Act 1940 and Rules, 1945 along with labelling declarations by the Bureau of Indian Standards (BIS). Recently, the Consumer Protection Act, 1986 was replaced by the 2019 Act. The new Act of 2019 has been enacted with the aim of providing timely and effective administration and settlement of consumer disputes and related matters. While major changes have been introduced, this article seeks to examine impact of the Consumer Protection Act of 2019 on beauty and cosmetic products.
Key aspects of the Consumer Protection Act of 2019 –
This Act has been introduced while keeping in mind the new set of issues being faced by consumers due to the digitization of the marketplace and therefore the wide range of goods and services being provided to consumers.
The 1986 Act lacked in terms of keeping up with the modern digitization and electronic era. The new Act aims to fill this lacuna and provides consumers with a systemic and approachable platform for redressal of their disputes.
Analysis of changes brought under the new Consumer Protection Act of 2019:–
Definition of "Consumer"– The Act of 2019 has expanded the definition of "consumer" as under Section 2(7) so as to include consumers involved in online transactions. The Act now covers E-commerce business within its ambit. With reference to beauty and cosmetic industry, consumers now frequently purchase their beauty and cosmetic products from e-commerce websites such as Nykaa or Amazon due to factors such as convenience and time. This expanded definition is beneficial for such consumers, as it provides an ambit of protection to them as well.
Definition of "Unfair Trade Practices"– The Act of 2019 has also expanded the definition of "unfair trade practices". As compared to the 1986 Act, under this definition the new Act includes –
• Online misleading advertisements,
• Not issuing a memo or bill for goods and services,
• Failure to either take back defective goods or deactivate defective services and refund the amount within the stipulated period of time, and
• Disclosing the consumers personal information, unless such disclosure is in accordance with the law.
Introduction of the concept "Unfair Contracts"– The new Act has introduced the concept of "unfair contracts". Unfair contracts are those which are against the interest of the consumers such as contracts mandating an excessive security deposit to be given by the consumers for performing the obligations of the contract. This new concept allows consumers to file complaints with respect to such unfair contracts. With reference to beauty and cosmetic products, sellers will now have to extremely cautious, as this new concept keeps e-commerce websites in check as well. Those sellers who take advantage of their dominance in the market and mandate consumers to sign their unfair contracts and accept their standard terms before providing their goods and services can now be held liable.
Central Consumer Protection Authority– The new Act provides for the establishment of the Central Consumer Protection Authority (CCPA).
• The CCPA has been provided with vide powers to inquire, investigate and take actions against the violations of the Consumer Protection Act, 2019.
• The CCPA also has the power to impose penalties and take action against misleading and false advertisements as well as any endorser of such advertisements. This places a huge impact on beauty and cosmetic products, as any advertisements of such products that are misleading, such as those claiming to "lighten skin-tone and reveal fair skin" can be taken action against by the CCPA. Celebrities who endorse such advertisements without conducting any due diligence can also be held liable by the CCPA.
• The CCPA can impose a penalty of up to Rs.10 Lakhs for the first violation and up to Rs.50 Lakhs on every subsequent violation on a manufacturer or an endorser, for such false or misleading advertisement. In addition to this, such manufacturer or endorser could also be sentenced to imprisonment for up to two years.
Product Liability– The new Act also introduced the concept of "product liability" which covers within its ambit the product manufacturer, product service provider and product seller, for any claim for compensation. Hence, consumers can now be compensated by such sellers, manufacturers and service providers for any harm caused by such deficient product or service provided.
Product sellers now include a person who is involved in placing the product for a commercial purpose and as such would include e-commerce platforms as well. Hence, the ground commonly taken by E-commerce websites that they merely act as "platform"' or "aggregators" will now not be tenable before the court anymore.
Judicial Pronouncements:–
Emami Ltd. v. Nikhil Jain, (First Appeal 549 of 2015, SCDRC Delhi) – This case is an appeal against an order passed by the District Consumer Dispute Redressal Forum on 31.10.2015.
• In this case, the respondent filed a complaint alleging that the appellant, Emami Ltd. adopted unfair trade practices, by selling its product "Fair and Handsome Cream – Worlds No. 1 Fairness Cream for Men".
• It was also alleged that the respondent got highly influenced by the advertisement of this product, where the appellant had used famous actor Shah Rukh Khan for promotion of their product making false claims and promises.
• Although the respondent stated that this cream had no effect on him via an affidavit, the SCDRC remanded the case back to the District Forum. This is because the respondent had not appeared before the forum, no expert evidence was provided, nor were his prior skin conditions examined.
Recently the Ahmedabad Consumer Dispute Redressal Commission (ACDRC) issued a notice to Amazon India following a complaint made by Ahmedabad Consumer Education and Research Centre (CERC) over counterfeit beauty products.
• In this case, CERC and its chief general manager, Ms. Preeti Shah found a set of Kajal eye pencils to be fake on inspection.
• Although Amazon India was asked to inform other buyers of this, they sent a misleading message to consumers, offering a replacement of this product without admitting it was fake.
• CERC then accused Amazon India of engaging in unfair trade practices.
• The court issued a notice to Amazon India and also filed a class action complaint on behalf of all the consumers who received this product.
To conclude, the Consumer Protection Act of 2019 has undoubtedly provided consumers with great protection and redressal mechanisms. While bringing the ambit of E-commerce into this Act, beauty and cosmetic product sellers, manufactures and e-commerce websites have to exercise caution while advertising and supplying their products. With the advancement of E-commerce websites such as Amazon or Nykaa, and the increase of use in beauty and cosmetic products, I believe this Act of 2019 is a blessing in disguise for its consumers.
Authored By: Adv. Anant Sharma & Madhulika Iyer