Legal Challenges faced by Over The Top (OTT) Platforms in India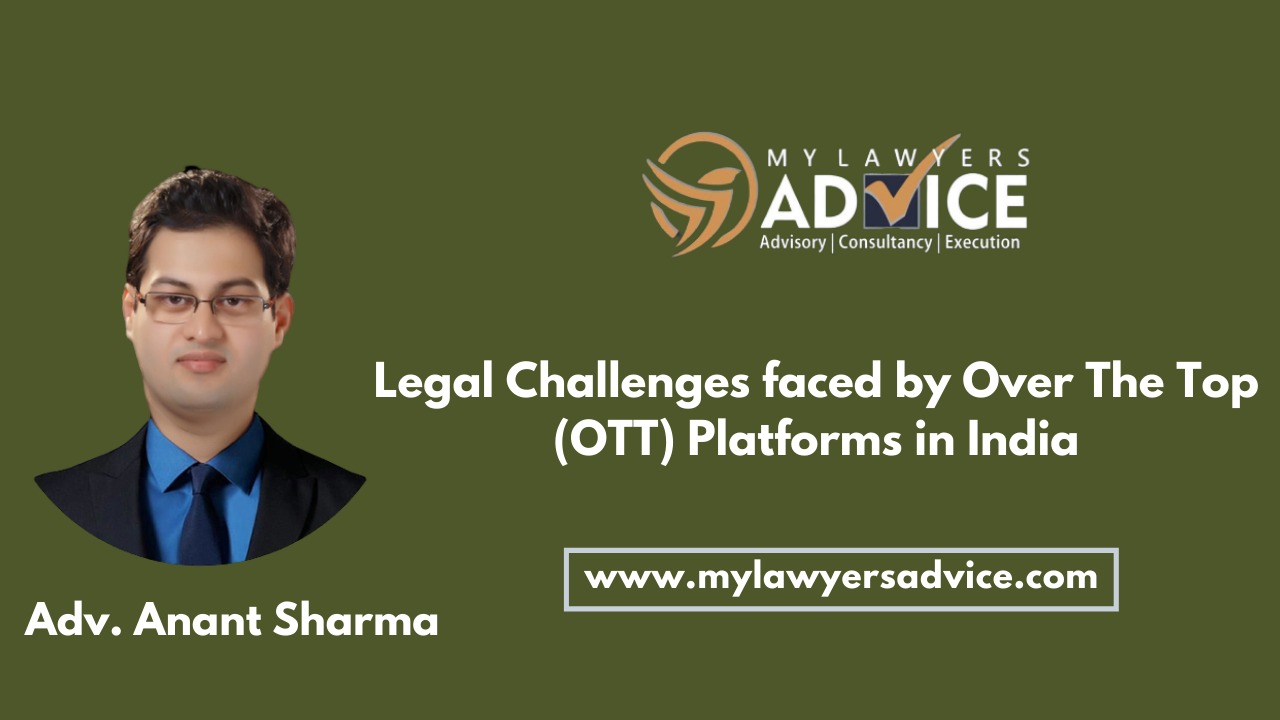 In times of global pandemic where the economy of country has taken a hard hit, people making huge losses in business and many losing jobs but when one looks at the online market especially the over the top platforms like Netflix, Prime Video, Hotstar, Voot and many more seem to be blooming and generating revenue who are in turn contributing and testifying towards the ongoing information revolution.
As we are well aware of the traditional picture of Indian media which has always been very dynamic, the issue with content related videos, pictures, memes or whatever you can call it has always been the cause of debate and differences because of the kind of diversity that Indian society offers in terms of religion, caste, colour, economic status and language. Hence it becomes very important for one to understand the effect that OTT platforms has on Indian society which in turn forms the basis of its regulation by the Government of India.

Unlike films which are required to follow certain certification rules and broadcasters of television programmes are required to adhere by the Programme code and Advertising code which all fall under the ambit of the Information Technology Act, 2000 ("IT Act"), the OTT platforms which consist of owners of films, web-series and other content that are being exhibited online or on any digital platform for that matter are currently free from any and all kinds of censorship or code. This position was confirmed by Ministry of Information and Broadcasting in a response given to a question raised under RTI Act, 2005 (MOIAB/R/2016/50541), where the Central Board of Film Certification accepted that it solely certifies films for theatrical release only and has no control whatsoever on the online content.

Since there is no regulation to control the content that is being shared on OTT platforms, the number of challenges faced by the producers, directors and the digital platform that shows the content is continuously rising. In Justice for Rights Foundation v Union of India (W.P.(C) No. 11164 of 2018), where the NGO filed the petition in Delhi High Court arguing that the OTT platforms were not regulated and they work without any form of censorship. The question before the court was when the cable and DTH operators have censorship and are regulated as to what is to be shown why not such regulation for OTT platforms. The petition was dismissed by High Court but the petitioner filed a writ petition before Supreme Court. When the matter was heard by Court, the court sent a notice to Government of India asking for an explanation as to why there was no regulation for OTTs. To which Ministry of Information and Broadcasting replied that there are enough provisions in the Information Technology Act,2000 which deals with content related issues such as content that is transmitting sexually explicit acts (under section 67 A which talks about punishment for publishing or transmitting of material containing sexually explicit act, etc., in electronic form ) or content that is transmitting obscene form (under section 67 which talks about Punishment for publishing or transmitting obscene material in electronic form ). The Supreme Court agreed and held that there was no need for any regulatory law for OTT platforms as there are enough under Information Technology Act, 2000.

To give you an example, let's talk about a web-series that was recently featured on Prime Video called "Patal Lok". Even though the show gained praises from all the over, but the series makers and producers were under attack from different religious and caste quarters and as well has the politicians of the ruling party and its allies and a writ petition was also filed in Calcutta High Court as Pranay Rai v Clean Slate Films Pvt ltd & Ors (W. P. No. 5441 (W) of 2020 with C.A.N. 3148 of 2020). The directors and the OTT platform received legal notices for hurting the sentiments the Sikh community, which also includes a police compliant demanding for a FIR against the producer under sections 153, 295A and 298 of Indian Penal Code stating that the content showed and portrayed has a potential of disrupting law and order situations all across the country. This wasn't the only complaint filed, there was another by an MLA for using his photo in the show without taking his permission. He also demanded a case to be filed against the producer under the National Security Act for causing communal stir. The most prominent was the National Human Rights Commission (NHRC) complaint with the assigned Diary Number 235/IN/2020 filed by the "Gorkha Group" against the producer for racial stereotyping.

This case raised a lot of arguments relating to why OTT platforms in India need censorship. The argument raised was that section 67 of Information Technology Act had been violated for displaying anti-social, vulgar and violent content without any restrictions for the ages that could watch the series. The web series was also challenged under the Indecent Representation of Women (Prohibition) Act, 1986 for showing the gang rape case. The petition also states that the show violates the sections 153A and 298 of Indian Penal Code. The main argument of the petition was that unlike films in cinema hall where one has choice to go and watch but the movies still need certification before releasing but on the other hand online platforms system is flawed and impractical as one has no control over the content that is being showed. The petition was however dismissed because the allegations do not make out any specific violation of human rights.

OTT platforms like Netflix, Hotstar and others are well aware of the effect if they continue to work unregulated. It is with this reason such platforms have voluntarily signed self-regulatory code called the Code of Best Practices for online content created by providers and also released by the Internet and Mobile Association of India (IAMAI) who disallows them from showing content that are banned by the Indian courts which outrages religious sentiments, promotes child pornography, incites terrorism or acts of violence against the State or disrespects the Indian Flag. The code is being called welcome measures which does the job of satisfying demands of those who are advocating for control of OTT platforms and also allow for the freedom of speech and expression under Article 19(1) with reasonable restrictions.

However, not all platforms have signed the code. Amazon prime being one of such platforms. On 5th February, 2020 IAMAI pushed for another self-regulatory code called Tier 2 code which only 5 out of 30 members of Digital Entertainment Committee signed. On 5th March, 2020 the central government gave 100 days to all OTT platforms to change/update their policies in accordance with the rules issued by Digital Content Complaint Council (DCCC) set up in February. Even though 100 days are over there has been no comment from the government's side.

The question that arises is whether it is really necessary to regulate OTT platforms or not. The answer to that is that in some cases it is necessary and in some it is not. Moreover, such regulations shouldn't be mechanical in nature but should be careful and thoughtful and should understand that there are economic and technical differences between OTT and the traditional telecommunication services. In today's scenario, self-regulation maybe the better option than a stricter regulation or code.
Authored By: Adv. Anant Sharma & Manasvi Shah