Applicable Laws & Legal Compliances for EdTech Start-ups: Lawyers Advice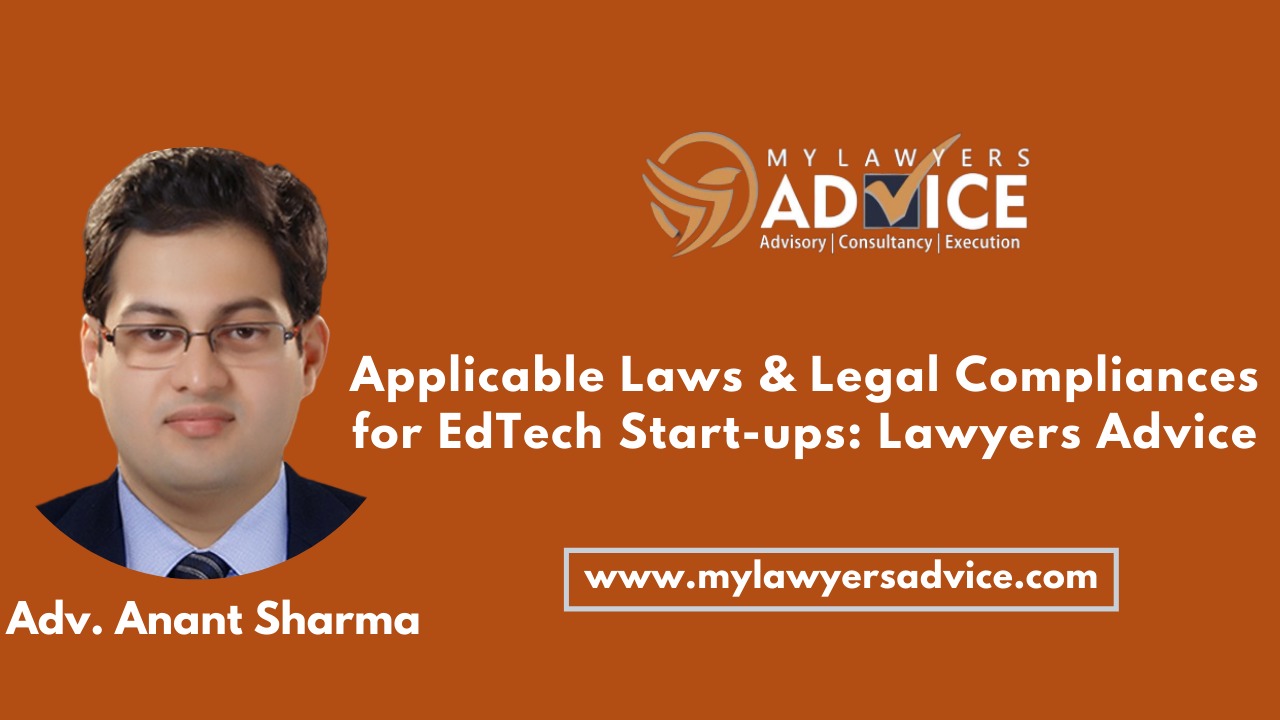 Education Technology also referred as Edu-Tech has brought a ground-breaking alteration in the conventional system of education as to how learning is disseminated across the state. In today's times obtaining a course or just taking extra classes, students just require a speedy internet connection and a Smartphone/ computer. The EdTech sector is taking web based learning to the next level in India and it is happening at a very rapid pace.
Ten Legal Compliances for EdTech Start-ups in India:
Registration as an Entity: Registering as an entity is mandatory, only then the government approves of such existence of legal entity.
Protection of Intellectual Property (IP): Intellectual Properties is/are the core of the technology driven business and hence it is vital to protect the intellectual property rights (IPR).
Consideration of different legal structures for an EdTech institution: This includes the establishment and incorporation of a corporate legal entity which can be in the form of a Limited Company or a Limited Liability Partnership L.L.P. firm respectively.
Register for GST Compliance: The EdTech Company needs to get GST registration.
Creation of Domain name and websites: Websites and internet domains play a significant role that helps in building a great rapport in the market. Having a unique domain name gives recognition for the conduct of business.
Compliance with Information Technology (IT) Act, 2000: Depending on the specifics of the business model, an EdTech platform may be considered as an intermediary (an EdTech marketplace for example) within the meaning of the IT Act. Under Indian law, an intermediary has the liability to comply with the provisions of the Act and the Information Technology (Intermediaries Guidelines) Rules, 2011.
Registration of Intellectual Property (IP): Registering your intellectual property gives the exclusive rights to owner. Intellectual Property forms the root of an EdTech structure; it is of essence that the rights vested with the correct entity.
Registration of essential Agreements: These agreements consist of: This consists of preparing Non-Disclosure Agreements (NDA), Intellectual Properties (IP) Agreements, Website Policies & Agreements and Confidentiality Agreements respectively.
Get a Payment Gateway: Payment systems in India are covered under Payment and Settlement Systems Act, 2007. Some of the payment gateways businesses use are PayPal, PayUMoney, etc.
Get data protection In India: The provisions relating to data protection are covered under the Information Technology Act, 2000 read along with "Information Technology (Reasonable security practices and procedures and sensitive personal data or information) Rules, 2011.
Leading Indian EdTech Corporations
• Byjus
• Contineo
• EduKart
• Leverage edu
• Meritnation
Profitable Business Models for EdTech Businesses
• Online Tutorials
• Coaching Classes
• Short-Term Certificate/Degree Courses
• E-book
• Q&A Forum
Education Specific Laws
In 2018, the University Grants Commission ("UGC") introduced the University Grants Commission (Online Courses or Programmes) Regulations. As per the web based learning only non-technical courses can be offered online. Online Courses or Programmes in the field of technical for example engineering, law, medicine, dental, pharmacy etc cannot be accessible through the online mode.
Tax Liabilities
Income tax in India is levied under the Income Tax Act, 1961.Residents are taxed on their global income while non-residents are taxed on income that arises within the territory of India. Thus, where EdTech services are offered by a resident legal entity, the global income of such entity will be subject of taxation under the act.
With technology advancing at a rapid pace artificial intelligence is no longer a dream. It is quite clear that EdTech companies are bringing in new dynamics in laws, legal compliances and tax structures. The government has made it easier for the entities because of the introduction of "Digital India" and "Make in India".
Authored By: Adv. Anant Sharma & Shivangi Ghosh