Laws Countering and Punishing Cyberstalking in India: Lawyers Advice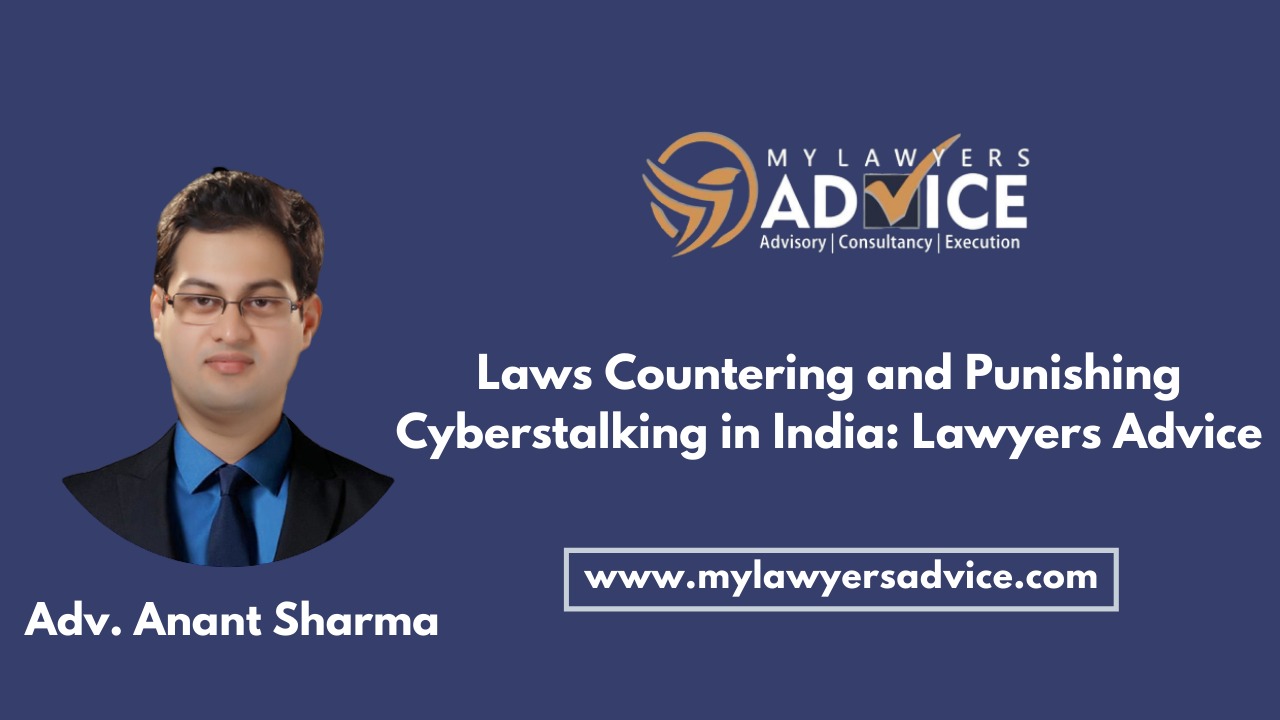 Cyber Stalking is a continuous use of internet communication, or other electronic means to stalk, harass, threaten either by sending emails, or messages a particular individual or a group of individuals.
Some pivotal points which are to be considered while registering a complaint under different provisions directly or indirectly dealing with instances of cyberstalking: –
Under Section 354D of the Indian Penal Code, "stalking" is defined as an offence and anyone who despite having a clear indication that a woman is disinterested in receiving any communication repeatedly indulges in proselytizing such communication or keeps an eye on her use of internet is guilty of cyber stalking. Now, to register a complaint under the aforementioned section, it may significant to note the following points, namely,
It must be proved that such stalking was not pursued with the objective to prevent or detect crime and furthermore that the alleged man was not conferred with the authority to carry out such an act to prevent and detect crime.
It is necessary to prove that such an act was not carried out by the man in pursuance of some law or any code of conduct imposed by the state.
Also, if it is it proved that such conduct or act was un- reasonable and un- justified in that particular circumstance then such man shall be held guilty under Section 354D of the Indian Penal Code.
Other than this, if a person with the intention to terrorize children publishes any material containing child pornography, such person shall be dealt under Section 67B of the Information Technology Act. The offense of stalking often involves sending lascivious content to the other person (victim) either through email, or social media. In such cases, the offender shall be booked under Section 292 of the Indian Penal Code. Now, for filing a complaint under the same it is necessary to keep in mind few pivotal points, namely:
The content published or sent has the tendency to warp or corrupt the minds of the people who are expose to the same.
It is necessary to prove that email/message or any other electronic communication containing some painting, drawing or any figure is not related to Science, Literature, or any other Art but is in its entirety is obscene and pathetic.
However, in K.A. Abbas v. Union of India (AIR 1971 SC 481), the Hon'ble Supreme Court of India with respect to Section 292 of the Indian Penal Code has held that sex and obscenity are necessarily cognate in nature. This implies that it is not necessary that every nude picture of a woman is obscene per se. It is necessary that such picture stimulates corrupt thoughts of standard sagacity in the minds of the person.
Now in cases where the Police refuses to register the complaint, the women can file a complaint with the National Commission of Women. This department take up the case to the Police in order to initiate investigation procedure. In cases of grave offence, a proper inquiry committee is to be set up which shall probe in to the case and furthermore gather proper piece of evidence, interrogate the witness and finally summon the accused. However, it may be noted that law under Section 354 D of the Indian Penal Code is woman-centric in nature. But, in today's world a man is also a victim of cyber stalking. In such a case, we have another set law under section 67 of the Information Technology Act. This law clearly states that anybody who publishes or sends any improper or salacious material through electronic media will be punished with an imprisonment up to five years or a fine up to Rupees one Lakh for the first conviction. Second conviction leads to an imprisonment up to ten years or a fine up to Rupees 2 Lakhs. Also, several websites have proper reporting mechanism where under the Information Technology Act, the website has to disable the obscene or troubling content within a period thirty- six hours of such reporting. Now, it is imperative upon the website intermediary to keep preserved such information for a period of at least ninety days for the purpose investigation. Lastly, cases of criminal intimidation and sending defamatory texts, one may simply lodge a complaint under Section 507 and 499 of the Indian Penal Code respectively.
Steps and Procedure to lodge Complaint to report Cyberstalking: –
Since cyber stalking is a crime without any barriers to it, the same has is devoid of any jurisdiction. Thus, a person may report such crimes to the respective cyber crime unit irrespective of the city, irrespective of their region, city or area. The first step to file or register cyber crime complaint is to register a written complaint with the cyber crime department in the place of one's residence. In the case one's city/town does not has a proper cyber crime unit, then one may simply lodge a First Information Report. Suppose if the Police refuses to register the First Information Report, then one may approach the Judicial Magistrate to register the complaint. For women who have been facing such terror, she may simply register an online complaint on cybercrime.gov.in which is a National Portal for the reporting Cyber Crime. Other than this, one may also file the complaint via email or social media platform itself. For registering a complaint based on email, one may simply have to follow the following procedure, that is:
A proper written complaint describing the offense.
Copy of the email received by the aggrieved recipient.
Both hard and soft copies of the email received with its header.
For registering a complaint based upon Social media, the following steps are two be followed for registering a complaint, namely
Screenshot of the accused post, content or profile.
Screenshot or copy of the Uniform Resource Locator (URL).
Both soft copy and hard copy of the troubling content or profile.
A person facing cyberstalking may also report his/her case to the Indian Computer Emergency Response Team (CERT-IN). This agency was designated by the Information Technology Act to deal with issues with respect to cyber security threats. In brief, they have a proper set procedure to prevent, report and respond to cyber threats and incidents. But before moving ahead it is important to understand that what can be reported with the Computer Emergency Response Team. Cases of spam emails and mail bombardments can be reported with the agency. Other than this, storage of data by an unauthorized use of any system can also be reported. Any such incident may either be reported via the Website of the agency, or through an electronic email. For reporting the incident via website, one may simply fill in the details of the entire incident in the given form for the agency to understand the gravity and nature of the offence. For reporting the incident via email, one may simply write and sent a proper description of the incident to incident@cer-in.org.in.

Guidelines of the Hon'ble Supreme Court with respect to a new provision to particularly deal with the incidents of Cyberstalking: –
In the landmark judgement of Shreya Singhal v. Union of India (Writ Petition (Criminal) No. 167 of 2012), the Hon'ble Supreme Court recommended to insert a new section under the Information Technology Act particularly to deal with the cases of cyberstalking. The Hon'ble held that the new section should include the following points, namely:
Making it a punishable offence to torture, harass, trouble, intimidate or threaten anyone though internet communication on Computer devices or any other electronic means.
Using any obscene or lascivious content, or taking any such image of anyone, or forcing anyone to commit such filthy and indecent act should be made a punishable offence.
Concealing, or fraudulently hiding one's identity to communicate with the other person on a repeated basis should be made a punishable offence. This offence is called Catfishing.
Each of the aforementioned offenders should be given rigorous punishment.
A proper explanation should be given with regards to the use of Computer and other electronic media devices. The Court believes that if the above given rules are properly incorporated in the Information Technology Act then cases of cyberstalking shall be effectively dealt. These rules and regulations shall control the actions of the stalker by imposing effective inflictions if the same if found guilty.
With the growing technology, there has been an upsurge in different types of cyber-crimes. Cyber-stalking is one of the biggest challenges faced by the internet users today. Women and young girls are biggest victims of cyberstalking especially catfishing. As mentioned in the early paragraphs, the Hon'ble Supreme Court has recommended to insert a section under Information Technology Act to deal with the instances Catfishing. However, other types of cyberstalking like tracking location, data stealing, bombarding mails and intimidating someone with messages on social media or any other electronic medium needs to configured and dealt properly. Although we have online redressal mechanism and several commissions but a proper provision particularly dealing with cyberstalking is the need of the time.
Authored By: Adv. Anant Sharma & Aniket Pandey