COPYLEFT vs COPYRIGHT
Copyleft is a type of license agreement allowing the licensor or the user the legal liberty to use, modify, extend and redistribute a creative work and all its derivative works or forms (i.e. works based on or derived from it) against the popular mode of restrictive or condition licensing.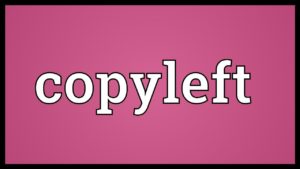 The copyright holder grants permission to the public including anyone who may want to utilize the work to copy and redistribute it in the same or in a modified form with the conditions that all such redistributions make the work available in a form that facilitates further modification and use the same license as granted from the original creator to the public.
The term copyleft is a modification on the word copyright except unlike copyright with usage condition and licenses and royalty. Copyleft is more towards the facilitation of the modification in line with the original license granted to the public. In simple sense, there is no royalty attached to the copyleft license as against copyright.
Most software which have copyleft are issued under the aegis of the General Public License (GPL) which was the first copyleft license and remains the most commonly used license for any kind of free software.
Free software is software whose source code is freely available to anyone to use for any purpose, including studying, copying, modifying, extending and giving away.
Thus, there exists pivotal difference between Copyleft and Copyright which is very significant and has far ending approaches.