Anticipatory Bail under the Foreign Exchange Management Act (FEMA) of 1999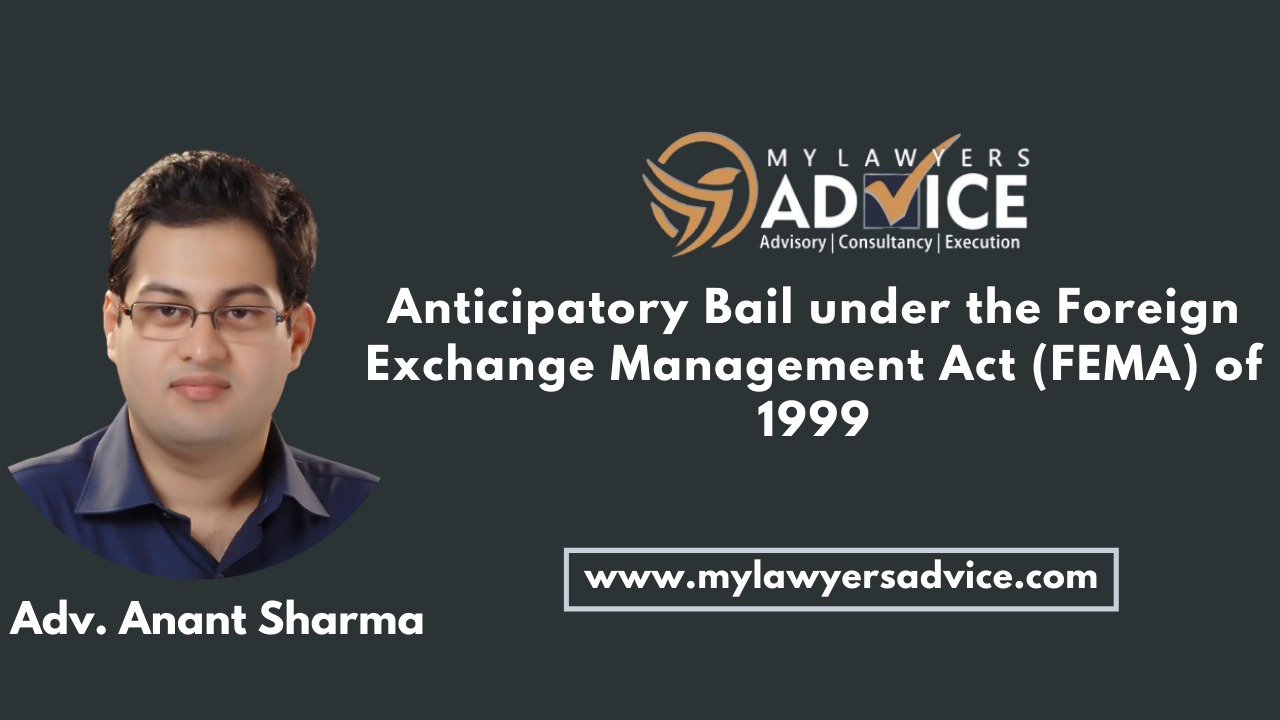 For Anticipatory Bail, a person can apply under Section 438 of the Code of Criminal Procedure (Cr P.C.) which can be granted only by the Sessions Court and High Court.
Five most important points must be kept in mind while applying for an Anticipatory Bail under FEMA are:-
The nature/gravity of the offence committed by the person seeking Anticipatory Bail.
The evidence confiscated from the Accused and all the facts of the Prosecution's Case.
The statement of the Investigating Officer and Government Lawyer.
The background of the accused i.e. whether he/she was previously involved in any criminal activity whatsoever.
The Initial Report of the Investigating Officer and all the statements registered in the Case File.
According to Section 438 of the Code of Criminal Procedure, 1973 the High Court or the Sessions Court may include directions or conditions depending upon the facts of the case as it may think fit including that : –
● the person shall make himself available for interrogation by a police officer as and when required;
● the person shall not, directly or indirectly induce, make a threat or promise to any person connected with the facts of the case to prevent him from disclosing such facts to the Court or any police officer;
● the person shall not leave India without the prior permission of the Court;
The above-mentioned conditions are primary in nature whereas there are other several conditions which shall be duly taken into consideration before applying for the grant of Bail, by the Court.

If a person contravenes the provisions under FEMA, he/she can be presumed guilty of offences under FEMA but the burden of proof lies on the ED to prove that he/she is guilty and if held guilty, be punished accordingly.
In P. Chidambaram vs. Central Bureau of Investigation and Ors. 263 (2019) DLT 218, the Hon'ble Delhi High Court observed that, 'The twin factors which have weighed to deny pre-arrest bail to petitioner are,
(i) The gravity of the offence and,
(ii) Evasive replies were given by the petitioner to the questions put to him while he was under protective cover extended to him by this Court.
The parameters governing pre-arrest bail and regular bail are altogether different. I have pondered over this matter for long and after weighing the pros and cons, I am of the considered view that the gravity of the offence committed in the instant case amply justifies denial of pre-arrest bail to the petitioner. Grant of pre-arrest bail in a serious matter like instant one to an accused simply on the ground that investigation is complete and charge sheet has been filed, would defeat the ends of justice. In bail matters, the gravity of the offence is of utmost consideration which weighs with the Court in granting or refusing pre-arrest bail or regular bail. The facts of this case persuade me to decline pre-arrest bail to the petitioner while refraining to comment on the merits of the case.'
Authored By: Adv. Anant Sharma & Chhatresh Kumar Sahu