Legal Tips for Non-Resident Indian (NRI) before they buy Property in India: NRI Legal Services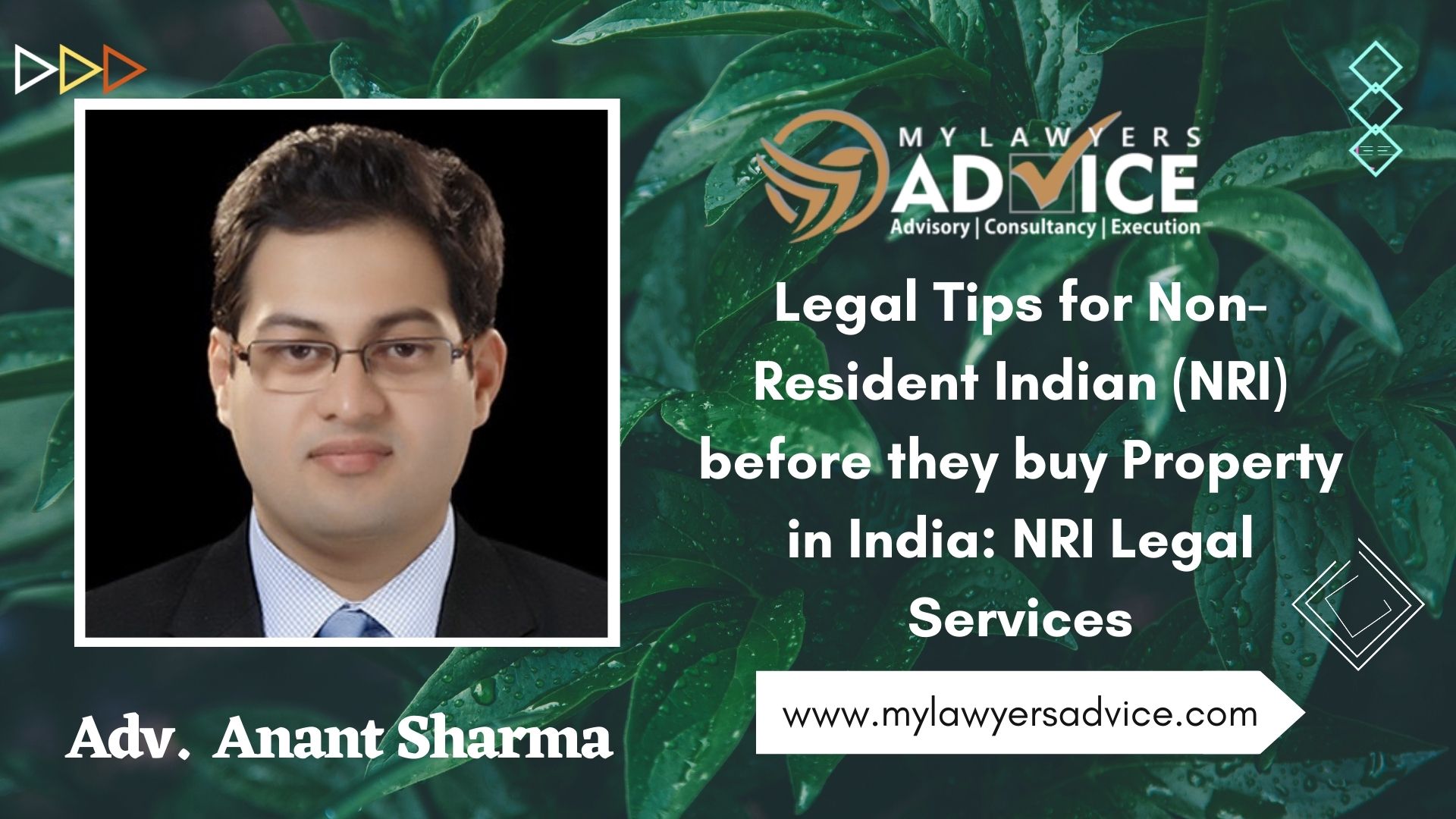 "Under the NRI legal services the real estate laws or the property related queries find a special place. There have been cases/events wherein the NRI has entered into a wrong transaction as he/she did not avail a proper online legal consultation from a reputed real estate attorney or lawyer handling property cases and thus leading to a financial loss. There have been numerous cases where the property gets struck in litigation or the possession is not delivered and the buyer has to suffer the losses. Further, for want of knowledge of the real estate laws of India or the property laws of India there always exists a chance of deficient paperwork and legal documentation."
After implementation of Real Estate (Regulation and Development) Act, 2016 (RERA Act), buying property has become more lucrative in India. These past years Indian real estate sector has already seen a positive response and its flourishing with increasing rate. But Before a NRI buy property in India, certain things should be looked out for like where a NRI can actually invest and should invest into and some other things.
Legal Tips before NRI buy Property in India
1. Property Type- A NRI can without any restriction buy residential and commercial property in India. But as per Foreign Exchange Management Act (FEMA) and Foreign Exchange Management rules, NRI is prohibited to buy agricultural land, plantation property or any Farm house. Prior-approval of Reserve Bank of India (RBI) is needed to buy such properties by NRI. So, NRI should be very vigilant about the type of property they invest into or there could be consequences like heavy penalty.
2. Taxation- If the purpose of buying the property is to sell it again on higher price, then the NRI should know the prevalent tax rate on selling of property in India and also the fact that NRI cannot sell property to any foreigner. It also includes transfer of property by mortgage. Tax on long term capital gain and short-term capital gain is different and Tax deducted at source is also applicable in India.
NRI also enjoys tax benefit as any other Indian Resident. It is provided under section 80 C of the Income Tax Act and can claim Rupees 1 lakh deduction of tax.
3. Power of Attorney (POA)- To avoid the trouble of getting back to India constantly regarding buying or selling of property, the NRI can delegate his/her power to representative, who can work on behalf of NRI and present the NRI there in the office of sub-registrar during the process of property registration.
4. Home Loan- If the NRI want to avail the option of home loan, then he/she can as RBI has permitted the bank and housing finance companies registered under the National Housing Bank to provide loans to NRI. But the point to be noted is that the money should be refunded in the same Indian currency and the loan money cannot be directly credited to their bank account and it will be credited to either seller's or developer's bank account.
5. Regulatory Law-NRI should be aware about the laws governing Indian real estate sector i.e., RERA Act and regulatory authorities set up under this Act.
6. Overseas Exhibition- exhibitions are organized overseas for NRIs to know about investment option in India by the Confederation off Real Estate Developers Association of India (CREDAI), the buyer can insist their opted developer or builder to attend this for better option or knowledge of proposals.
7. Documents required- some documents need to be furnished before buying property. They are- Proof of residence, Person of Indian Origin card or Overseas Citizen of India card, Passport of NRI, PAN card and passport size photograph.
8. Check for encumbrances- The NRI buyer should make sure that the property is not disputed, no monetary debts are there on that property or any outstanding mortgages and taxes are paid on that property. In short, anything regarding the property like monetary debts, legal dispute that could become obstacle in transfer of or after the transfer of the concerned property should be eliminated.
9. RERA approved Projects- It is advisable to go for RERA approved projects, because then the field visit can be avoided as RERA shows the carpet area and there are other benefits too like the NRI buyer can check the status of project and there are remedies too in case of any fraud, late delivery of possession etc.
In case the NRI buyer is not buying RERA approved project, then should mandatorily do a visit to property and make sure that the transaction is in confirm with the statutory laws.
10. Transfer of Funds- The payment can be made through these mentioned ways-
– Through general banking channels
– Can be made through NRE/FCNR account
Payment is allowed to be made in Indian currency only.
Therefore, before buying any real estate or property in India the NRI should always obtain a proper legal consultation from the best real estate attorney or a property lawyer and should always avoid in investing in disputed properties or struck properties in India.
Before buying property in India by NRI, above mentioned things should be necessarily kept in mind to avoid any sort of problem during the registration process of property or ownership rights.
Authored By: Adv. Anant Sharma & Anjali Swami