Laws & Legal Compliances for Companies selling Face Masks and Face Shields: Lawyers Advice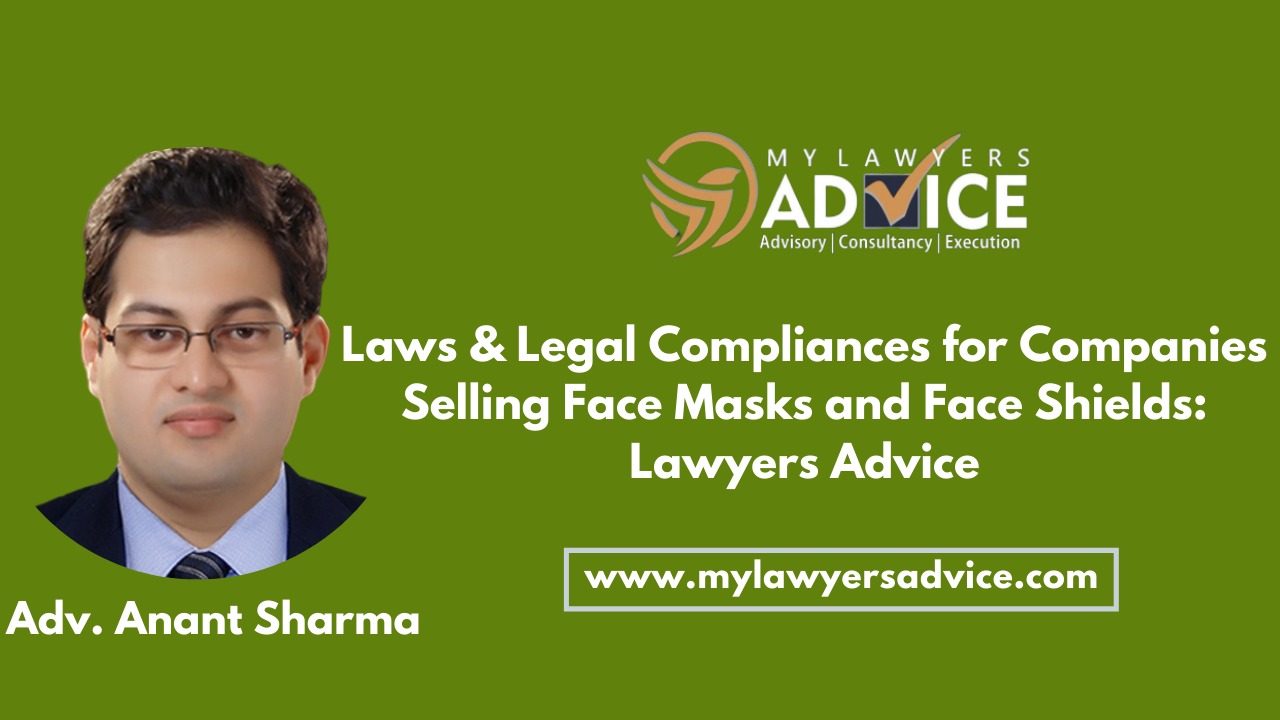 With COVID-19 spreading every day, the need for face masks and face shields has grown exponentially in the last two months. With an emphasis on preventing community transmission, wearing a face mask or face shield has become a necessary precaution for anyone stepping out of their house.
Manufacturers and marketers have recognised that fact and are all cashing in on the market that face masks and face shields currently have with new companies claiming they are entering the production for these protective products as well. In such a scenario, the question arises on what laws and regulations should these companies take care of.
What laws govern face masks and face shields?
Face masks and face shields produced for COVID-19 or even the masks produced during heightened conditions of pollution will be, by its definition, considered as a medical device by law. These devices are designed to be used externally or internally for mitigating or preventing a disease or disorder in human beings. Therefore, the import, manufacture, sale and distribution of medical devices are controlled by the Drugs & Cosmetic Act 1940 & Rules 1945 in India.
The Regulating Authority that controls the licensing and regulation of these medical devices is the Drugs Controller General of India (DCGI) and the application for license or registration of such devices must be submitted to the DCGI.
What is a medical device?
According to the Definition Notification as notified in the Gazette Notification on February 11, 2020, the Ministry amended the definition of "medical devices" under Section 3(b)(iv) of the Drugs and Cosmetics Act, 2020 as follows:
"All devices including an instrument, apparatus, appliance, implant, material or other article, whether used alone or in combination, including a software or an accessory, intended by its manufacturer to be used specially for human beings or animals which does not achieve the primary intended action in or on human body or animals by any pharmacological or immunological or metabolic means, but which may assist in its intended function by such means for one or more of the specific purposes of ?
(i) diagnosis, prevention, monitoring, treatment or alleviation of any disease or disorder;
(ii) diagnosis, monitoring, treatment, alleviation or assistance for, any injury or disability;
(iii) investigation, replacement or modification or support of the anatomy or of a physiological process;
(iv) supporting or sustaining life;
(v) disinfection of medical devices; and
(vi) control of conception. "
In the Gujarat High Court judgement in case of State of Gujarat v. Titan Industries Ltd O/TAXAP/657 of 2013, it was stated that excluding goggles, spectacles of sun-glass and sun-glass, which are not correctives, all face accessories that are meant to be of external use and are specifically designed to protect the face from harmful external effects will be considered as medical devices and equipment.
How are face masks supposed to be priced?
The Central Government in orders passed on March 13th and 21st, decided to add face masks and hand sanitizers to the Essential Commodities Act, 1950 by amending its schedule and even going so far as invoking the Disaster Management Act, 2005. It had the power to do so under Section 3 of the Act, and has put masks and hand sanitisers under Essential Commodities Act (ECA) till June 30, 2020 to guarantee proper accessibility to these items in the market at fair prices in view of their necessity during the outbreak of COVID-19.
The Ministry of Health and Family Welfare has also termed these items as drugs with instant effect to allow the National Pharmaceutical Pricing Authority (NPPA) to control the availability and costs of the surgical and protective masks, and gloves in the interest of public welfare.
How do these orders get enforced on state level?
States enforce as per the order issued by the Central Government, and enforce the regulations. Thereby ensuring that those trading or dealing in such essential commodities, including wholesalers, retailers, manufacturers, and importers, are stopped from stocking it beyond the given quantity.
How is compliance by retailers/manufacturers/traders ensured?
The intent behind of terming any commodity as "essential" is to avoid profiteering at a time of extraordinary demand in times of crisis. Therefore, all those who violate these regulations put forth in these government orders are termed as illegal hoarders or black-marketeers under Section 7 of the Essential Commodities Act, 1950 and are liable to be prosecuted, as laid down in the Madhya Pradesh High Court judgement in case of Teepa Surendra vs State of M.P Cr.R.No.295 of 2009. Besides the penalties laid down in the section, any violation may lead to imprisonment of up to seven years.
Important points to consider for licensing and quality: –
• A license to produce and distribute a medical device can be obtained from a state's Food and Drug Administration, after the completion of a joint review by the state FDA and Central Drugs Standard Control Organisation.
• For notified devices, the DCGI's consent is needed. Licenses are typically effective for 5 years and are renewable.
• The licensing authority in India on the matter of quality and safety regarding medical devices and equipment is The Bureau of Indian Standards (BIS). BIS also serves as a member of the international organisation for standardisation (ISO).
• The Medical Devices Rules – 2017 also make it mandatory manufacturers to confirm the standards laid down by the BIS.
In conclusion, it is undeniable that face masks and face shields will gain even more importance with the restarting of flights in India. Air travel without these devices is too risky and could invite legal consequences. In such times, companies and marketers holding the responsibility of selling these devices to consumers, must ensure that all legal requirements are fulfilled.
Authored By: Adv. Anant Sharma & Parinay Gupta