Electronic Evidence & its Evidentiary Value in a Criminal Trial: Lawyers Advice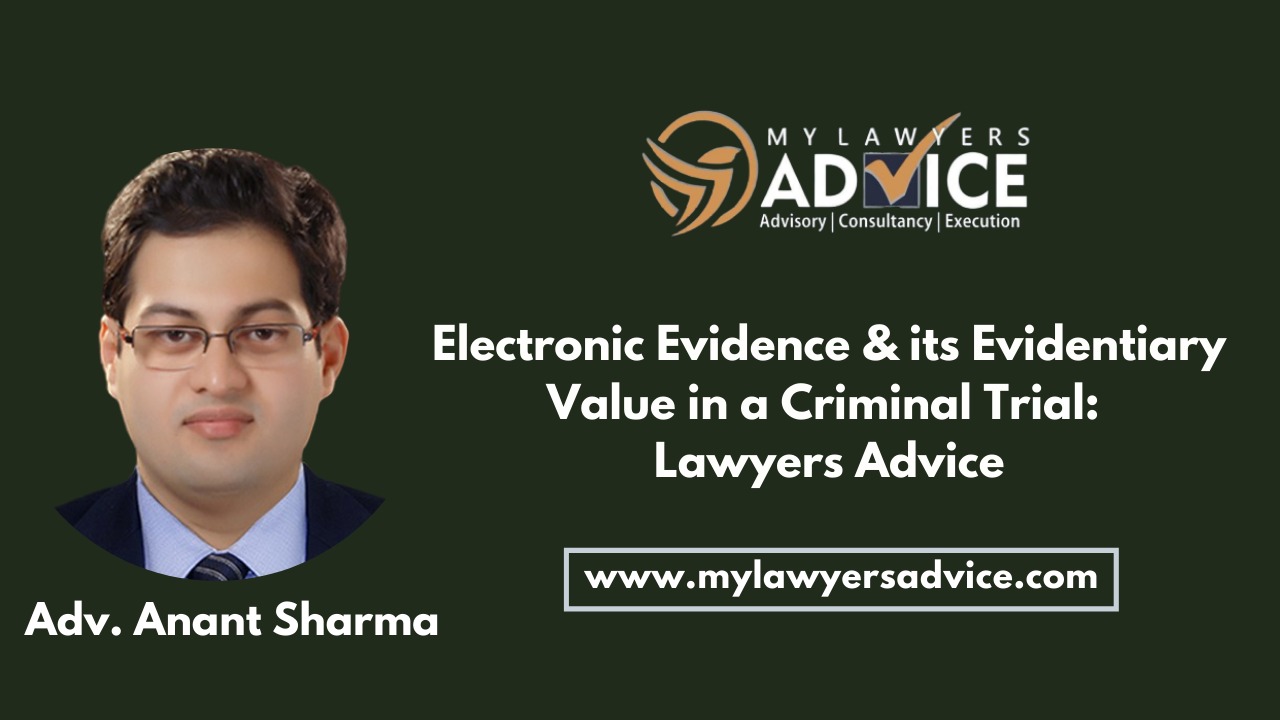 The 21st century has witnessed a massive evolution in the e-commerce sector, not only in India, but the entire world. While almost everyone has become an avid-user of technology, the courts in India have recognised this change as well. The success of a prosecution, especially during a criminal trial is largely based on the quality of evidence presented by them. Hence, this article seeks to examine the evidentiary value of electronic evidence in India, along with the stance of the Courts as of today.
The two broad types of evidence are –
• Primary Evidence– This type of evidence is given preference over secondary evidence. With respect to electronic evidence, primary forms would be any virtual forms where this evidence is stored, such as iCloud, Google drives, or even hard-drives, CPUs etc.
• Secondary Evidence– With respect to electronic evidence, secondary forms are printouts, originals of the document which have been copied in optical or magnetic media by a computer etc.
Laws governing Electronic Evidence in India are:–
The Information Technology Act, 2000–
• As per Section 2(t) of the IT Act, 2000, "electronic records" means any data, record or data generated, image or sound stored, received or sent in an electronic form or micro film or computer-generated micro fiche.
• Section 4 of the IT Act, 2000 laid down permission for records to have legal effect despite being in electronic form, so long as they remain accessible for future reference.
• The 2008 Amendment under Section 2(ha) recognised "communication devices" to mean cell phones, personal digital assistance or combination of both or any other device used to communicate, send or transmit any text, video, audio or image.
The Indian Evidence Act, 1872–
• The IT Act amended the definition of "evidence" under Section 3 of the Indian Evidence Act, in order to include electronic evidence as well.
• The Indian Evidence Act widely discusses the evidentiary value of electronic evidence. Sections 65A and 65B of the Act provide four conditions, which if satisfied, any secondary evidence from an electronic record, such as a printout from a computer, becomes admissible. When the original form is not accessible or easily moveable, this Section can be applied in order to use the secondary form of evidence.
Kinds of Electronic Records and their Admissibility in a Criminal Trial:–
As stated above, the IT Act covers a wide range of electronic records. Each of the records have different conditions with respect to their evidentiary value and admissibility in a court of law.
DVDs, CDs, Hard-Drives, Pen drives, Memory Chips– This set of electronic records can be used as primary and secondary evidence. In order for it to classify as primary evidence, the original media should have been stored or directly recorded in the CD, pen drive, hard-drive etc. For it to classify as secondary evidence, the conditions under Section 65 of the Indian Evidence Act, along with a certificate containing the particulars (as under Section 65B (4)) from the person related to the operations of the relevant device are necessary.
Audio and Video Recordings– Any original audio or video recordings are admissible as valid sources of evidence. Since audio recordings can be altered, there are various factors the Courts look at before considering it as valid evidence. For example, the relevancy, accuracy, exclusion of the possibility of any tampering, the voice of the speaker etc. Once it is certain that there are no grey areas present, it will be considered as evidence by the Courts.
Emails, Media, Calls from Mobile Phones– As per Section 88A of the Indian Evidence Act, the Courts follow a presumption while looking at emails as a form of evidence. However, this presumption is pertaining only to the data fed into computers and not with respect to the email. Apart from emails, mobile phones with their memory chips can be submitted as evidence. The media generated from these phones can also be submitted as secondary evidence under Section 65 of the Indian Evidence Act.
Judicial Pronouncements –
• In the case of State v. Mohd. Afzal and Ors. (2003 (3) SCC 1669), the Delhi High Court held that computer generated electronic records are admissible as evidence, as long as they are in consonance with Section 65B of the Evidence Act. In this case, the Courts also observed that theoretical or general apprehensions cannot make clear evidence inadmissible or even defective.
• In Anwar P.V. v. P.K. Basheer (AIR 2015 SC 180) the Supreme Court of India held that Section 65B of the Indian Evidence Act is a special provision under digital evidence which will override the general rule of adducing secondary evidence under the Act.
• In Sanjaysinh Ramrao Chavan v. Dattatray Gulabrao Phalke (2015(2) ACR415) a recorded conversation had been translated. The court held that, since the voice recorder had not been subjected to analysis, no reliance could be placed on the translated version. The court also relied on the Anwar judgement and stated that both the source and authenticity are major factors in electronic evidence.
• In Ram Singh and Ors v. Ram Singh (AIR 1986 SC 3), the Hon'ble Supreme Court held that audio tapes can be accepted as evidence, while also laying down certain factors to determine their authenticity first.
To conclude, after analysing the various Sections and Amendments under the Information Technology Act and Indian Evidence Act, along with relevant judicial pronouncements, it is evident that the Courts in India have adopted to the changes in the technological sector effectively. The courts have laid out an efficient and accurate procedure in order to determine the admissibility of electronic evidence, thereby facilitating effective administration of justice in our country yet again.
Authored By: Adv. Anant Sharma & Madhulika Iyer