Burden of Proof under the Narcotic Drugs and Psychotropic Substances (NDPS) Act, 1985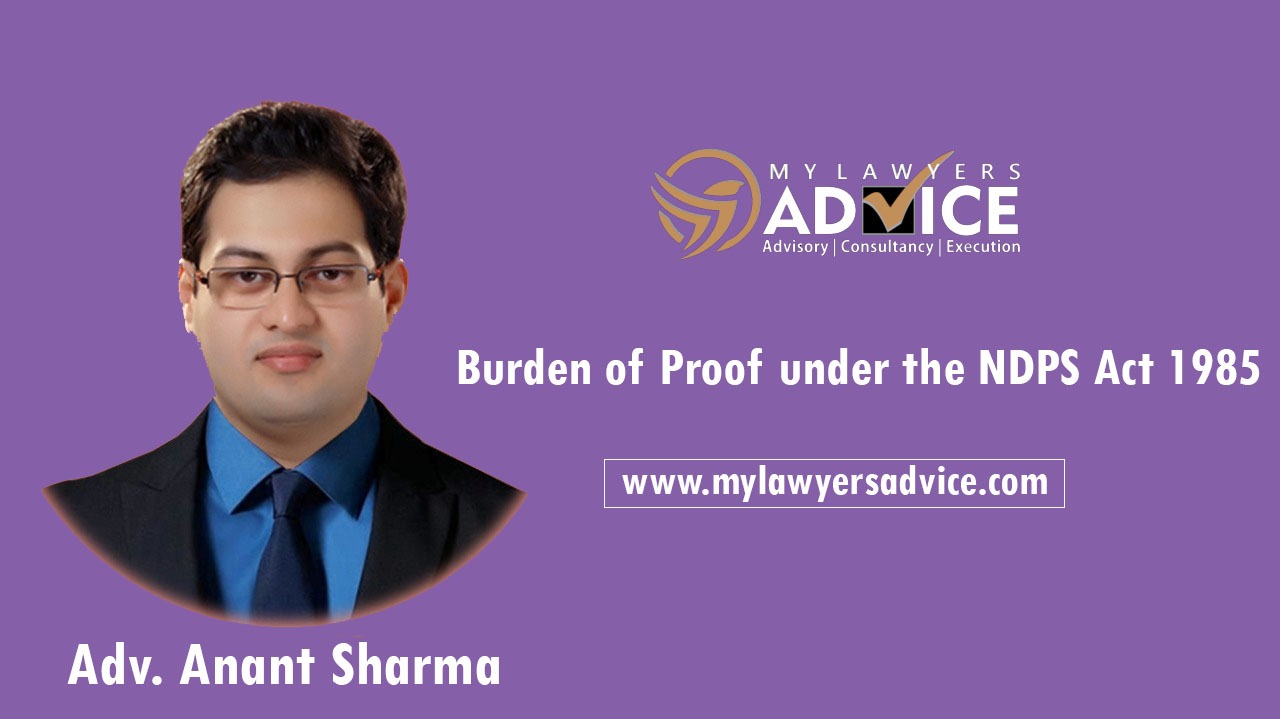 Evidence in a case plays the most crucial and stands the deciding factor for an alleged person or and accused person to be convicted or exonerated. Thus, the importance of tendering evidence is above anything in the criminal trial.
There are two types of evidences which are considered under the Narcotic Drugs and Psychotropic Substances (NDPS) Act, 1985 during search and seizure, they are Direct and Indirect Evidence.
Direct Evidence are those which directly prove the offence committed by the accused and has a direct incriminating value i.e. Forensic Evidence like Fingerprints, Toxicological Evidence for proving one's intoxication of the controlled substance.
Indirect Evidence, also called are a little difficult to prove in a Court of law and may be not direct in nature and to give an example, the circumstantial evidence could be termed as a part of indirect evidence.
The Hon'ble Supreme Court in Vijay Pandey vs The State Of Uttar Pradesh Criminal Appeal No. 1143 of 2019, it was stated by the Prosecution that the appellant was in possession of a plastic flour packet which led to the recovery of 10 kgs. of opium and there was no independent witness from the locality and all the witnesses were police officials only. The prosecution failed to prove that the sample produced in Court was the same as seized from the appellant. Prosecution's case was based on indirect evidence since the absence of witness and the failure to prove that the sample collected was the same as seized are circumstantial evidences and the accused was acquitted by the Court.
In the NDPS Act, the burden of proof lies on the accused to prove that one was not in the conscious possession of the controlled substances i.e. Opium, Cocaine etc. The accused can raise doubts about the evidence produced by the prosecution to weaken the case. The accused may also produce other evidence when he/she is called upon to enter on his/her defense. If the circumstances appearing in the case presented by prosecution assures the Court that the accused could not have had the knowledge of the required intention, the burden upon him under Section 35 of the NDPS Act would stand discharged even if the accused had not produced any other evidence of his own when he is called upon to enter on his defense.
In a recent judgement of Hon'ble Delhi High Court, Pappu Kumar & Kallu vs State Crl. A. No. 154 of 2014, the Hon'ble Court held that accused is entitled to a benefit of doubt in absence of concrete evidence collected in raids under the NDPS Act. In this case, the public witness did not support the prosecution's case and said that Police had obtained his signatures on some documents on the pretext that ganja was recovered.
Authored By: Adv. Anant Sharma & Chhatresh Kumar Sahu