Relevance of Power of Attorney (POA) in Real Estate and its Execution in India: NRI Legal Services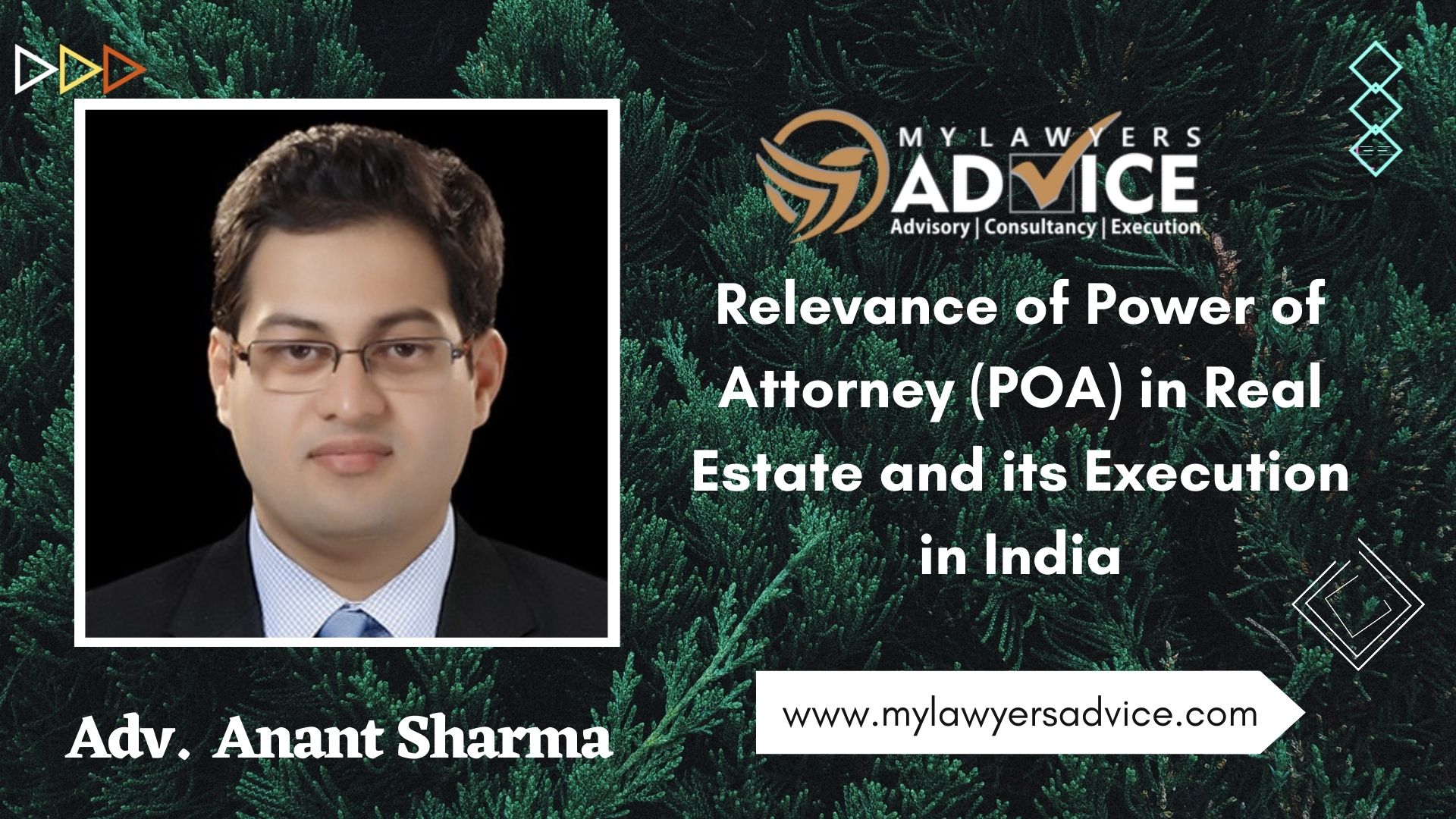 "The best way an Non-Resident Indian (NRI) can sell his/her property or real estate in India and that too without coming to India is to execute a Power of Attorney (POA) in favour of a resident Indian in India. The entire process can be executed by obtaining online legal consultation from a best property lawyer and execution of proper documents prepared by a real estate attorney in India."
It is troublesome for NRIs to frequently come to India and during the corona pandemic, it became even more hard for NRIs to travel back and forth to India. That's where the concept of Power of Attorney become very significant for NRIs dealing with real estate in India and it execution of Power of Attorney (POA) in real estate.
Power of Attorney (POA)
Under this, a person can delegate his/her power, means other person will have the power to act on behalf of former. That's called Power of Attorney. Sale, leasing, registration are some of the power delegated to other person and the other person become authorize to do so.
There different kinds of Power of Attorney-
• Special Power of Attorney- it is confined to a particular purpose. Like if its transaction specific, then the authorized person can act on behalf of Principal (the one that delegates the power) regarding the transaction matter only.
• General Power of Attorney- under this, many powers are delegated to representative (to whom power is delegated) to make decision for the interest of Principal.
• Durable Power of Attorney- This type of POA is for lifetime unless expressly revoked by the principal.
Legal Importance of Power of Attorney (POA) in Real Estate for NRIs
In Real Estate, POA plays significant role in transaction of purchase or sale of property. Earlier, the POA was mishandled and used as tool to avoid tax on capital gains and for the same issue, Supreme Court of India expressed that POA should only be used for genuine transactions.
How to Draft POA Deed?
Irrespective of who is drafting the POA deed, some common and relevant details need to be noted down in deed. Those are-
• Details of Representative and Principal- like name, email address, place of Business, Phone number
• Purpose of the POA
• Kind of POA should be expressly mentioned
• Validity period of POA
• Signature on POA should be confirmed
Both the Parties need to authenticate the draft by local authorities.
Execution of Power of Attorney by NRI
POA can be executed in India or where the individual's current residence is. The procedure for execution of POA in India is-
1. First, the person needs to draft the POA on non-judicial stamp paper costing rupees 100 and the above- mentioned things on how to draft necessarily needed to be noted down
2. Each party of the POA needs to go to office of sub registrar in the concerned area. Two witnesses and legal representative should also go along with the parties
3. The officer at sub registrar office will ask for the POA documents, photos and fingerprints of both parties. So, both parties need to be present there. Either party cannot be absent.
4. Stamp duty have to be paid by parties at the sub registrar's office
5. The whole process can take a week after the documentation submission and after that registered POA can be collected by the Parties.
The point to be noted here about registration of POA deed is that Indian Registration Act, 1908 do not make the said registration mandatory but the Supreme Court of India in 2011 made it mandatory for POA deed to be mandatorily registered.
The procedure for execution of POA outside India is-
The Indian embassy in another country can get the POA legalized. There are two ways of doin it-
1. Apostillisation
2. Legalisation
Under Apostillisation, it is assured that nothing in POA draft is in conflict with the local laws. So, it confirms the provisions of Indian Registration Act, 1908 & Power of Attorney Act, 1882. The stamp duty is also paid under this to completed the process of apostillisation.
Under Legalisation, the parties need to get their POA deed signed by local judge or any such authority and then get that authenticated by the Indian embassy. After this, within 3 months the said POA must be stamped and registered in India and for registration stamp duty must be paid and the deed can be sent by registered post to an Indian embassy.
The entire sale and purchase of property should be carried out under the guidance of a reputed real estate attorney who is experienced in rendering NRI legal services in India and is well versed with the rela estate laws of India or the property laws of India.
The one thing common about POA execution outside and in India is that notarized deed has no legal validity, POA deed mandatorily needs to be registered in India in both situation and then only it will get legal validity. Ownership of property is also not transferable from POA, it is for genuine transactions only.
Authored By: Adv. Anant Sharma & Anjali Swami