Pre-Requisites of a Joint Venture (JV) Agreement: Lawyers Advice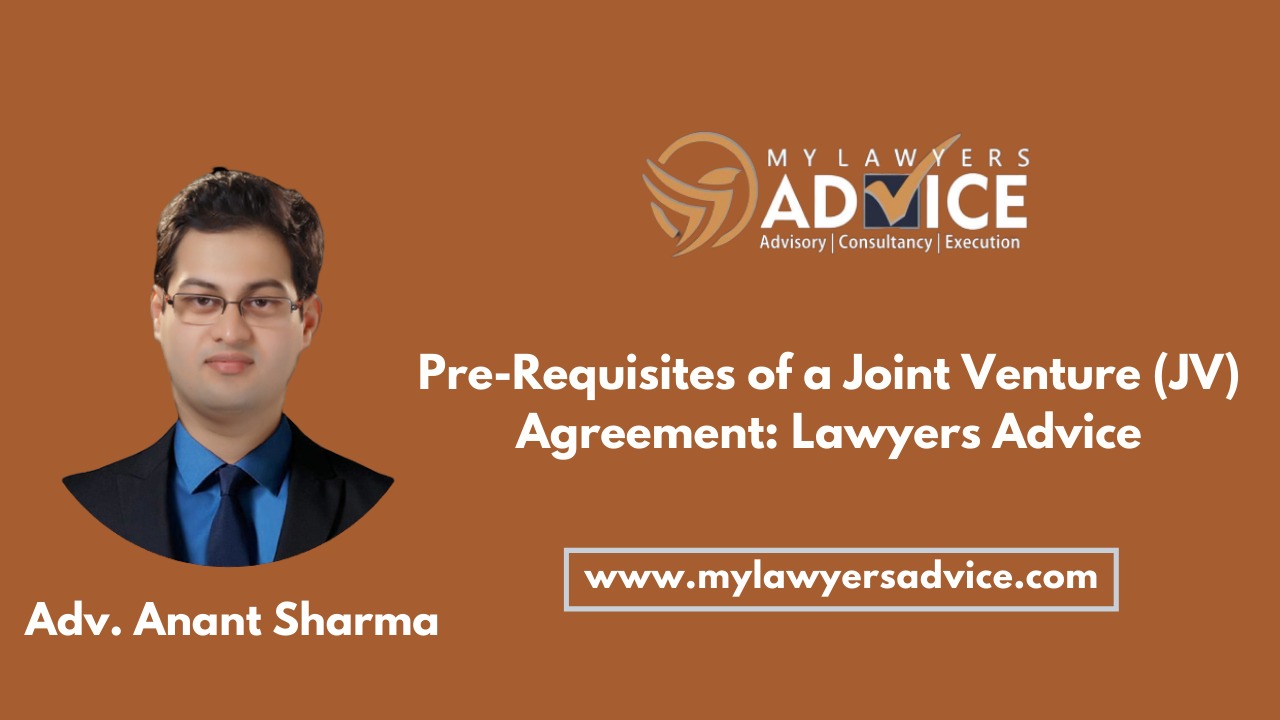 The strategic alliance or the business arrangement between a group of people or business entities to form such an undertaking either for a stipulated period or beyond that to fulfil some business goals or project for a lawful purpose can be termed as a joint venture in a simplified manner. The parties involved in such kind of arrangements can be termed as co-venturers. Usually, the main aim to form such an alliance is to pool and merge the resources like capital, manpower, expertise and so on to achieve the business objectives and to capture the market to have a powerful and successful market and business presence. A joint venture agreement between a local company and a foreign company helps in breaking down barriers to enter into the country or its market which would have been otherwise difficult to penetrate into considering the local laws in certain sectors of business.
A joint venture can be differentiated from a merger or a partnership in a way that the parties do not transfer their ownership in the agreement. Also, sometimes a joint venture can only be for a specific purpose after which the agreement shall terminate but in partnership, the agreement may be for a longer term or may also be permanent.
The advantage of a joint venture is that the entities can combine their resources for a bigger project which they would find difficult to manage single handedly. Also, such an agreement allows them to bring in the best of knowledge/experts on board from their respective entity which helps in achieving the goals in the best possible manner. When two or more small companies combine their expertise for example marketing or manufacturing it saves money as they don't have to separately invest in those functions to accelerate the project and as such it helps in developing new products and technologies from the already available resources which also helps in saving costs. Such type of joint venture can also leverage their business against their competitors by establishing access to more clients which could increase the sales and eventually their total market share and also help in the diversification of business.
Why does a foreign entity choose an Indian entity?
When foreign entities are restricted to function in the Indian market due to the local laws, governance and rules, they prefer to have a joint venture with an Indian entity as it provides them a low risk option and a medium to enter the market without any strict restrictions. Hence, selecting a local partner as per the requirement and specification of a project is essential for the joint venture to work and function successfully. Once the parties finalise the deal, usually documents like a Memorandum of Understanding (MoU) or Term Sheet or Letter of Intent is signed by them thereby cementing the relationship for the venture to be undertaken. It becomes necessary to have a professional on board who would assess such documents as the terms and conditions and other clauses need to be properly checked before signing. Also, since the parties belong to different regions, cultures and have different legal background it might sometimes get confusing to the parties to sort out the issues during negotiations hence with the help of a professional who has the knowledge of the local laws can guide with regards to all government approvals and licenses to be obtained before starting any venture.
Some of the laws that govern the joint venture setup are:
• Companies Act, 2013
• Limited Liability Partnership Act, 2008.
• The Foreign Exchange Management Act of 1999,
• Labour laws
• The Competition Act 2002, and other industry-specific laws.
Business Structure for a Joint Venture:
There could be two options for establishing a joint venture in India, one Equity based joint venture whereby the formation of such a venture would be suitable for a long-term basis venture wherein an independent legal entity is formed with the compliance and approval of two or more entities who pool their resources and their contribution in the business. Another type could be a Contractual joint venture where it might not be necessary to create a separate legal entity. Such type of joint venture is suitable where the project is short-term based or is only a temporary association with not an extensive activity with the parties for example a franchisee agreement/relationship. Also, a foreign entity may choose such an option for its joint venture with an Indian entity when it does not want to invest in the equity capital and just want to exercise governance or regulate the venture and decide how it runs. Though a foreign entity may choose a contractual joint venture in the beginning as per their requirements of the project they may change it to an equity based joint venture at a later stage.
If the entities choose equity based joint venture they could form either a company or limited liability partnership joint venture. Under a company structure, the parties may either start a new company altogether or venture with the promoters of an existing company. More flexibility is provided in forming a new company as the entity can without any restrictions structure terms and conditions as per the specifications and obligations of the parties. In case the entities choose to form an LLP, they will have to incorporate a legal entity under the Limited Liability Partnership Act, 2008. Also, there is no requirement of contributing any minimum capital for the incorporation of a LLP firm.
Important Clauses of a Joint Venture (JV) Agreement are:
Parties: Since two or more parties are involved in a joint venture i.e. a foreign entity and an Indian entity, it is important to have all their relevant details in the agreement in order to avoid getting into a business with a fraudulent company.
Operative Details: The details in this clause constitute important points as all essential details like the roles and responsibilities of each entity in the joint venture has to be mentioned along with details like name, equity investment detail, activities to be undertaken, details of board of directors, etc.
Duration: As the joint venture may be equity based or contractual based, it becomes essential for the parties to discuss the duration of such a venture in detail.
Termination: The parties should mention the terms of termination wherein both will be liable in case of any breach. A proper notice period should be mentioned along with the procedure of dividing assets wherever applicable to avoid any ambiguity.
Dispute Resolution: To resolve complicated legal issues, a dispute resolution clause should be mentioned in the agreement to avoid long drawn litigation process and legal costs. Also, since the parties may belong to two different locations, it becomes essential to specify the jurisdiction and the governing laws for such dispute resolution.
Confidential and Non-disclosure Agreement: When two or more parties combine their resources to form an entity and to establish a project it becomes imperative to maintain confidential information to avoid leaking it to the competitors, hence such a clause makes sure that the trade secrets are safe and secured.
Non-Compete Clause: During the duration of the joint venture and also after the termination, the parties to the agreement may prefer to have a strict non-compete clause to avoid any losses to the project undertaken. In Niranjan Shankar Golikari v The Century Spinning & Manufacturing Company Ltd. (AIR 1967 SC 1098) and Gujarat Bottling Company Ltd. v Coca Cola Company (AIR 1995 SC 2372), the court allowed a non-compete clause during the tenure and after the tenure of the joint venture when the scope of the same was reasonable. Similarly in the case of IP Holdings Asia Singapore (P) Ltd. v SEBI [(2015) 2 SCC 68], the court held that if the provision of the clause is not against public policy the non-compete clause can be enforced against the parties leaving the joint venture.
Indemnification: When two or more parties are involved in particular venture, care should be taken to adhere to all the rules and regulations of an agreement. When any party violates an agreement due to any reason it becomes essential that the other party is indemnified as the party violating the agreement would be solely responsible for such a project to come to a halt.
Force Majeure: With the Covid-19 pandemic, the force majeure clause has assumed great relevance while drafting an agreement. Considering the parties belong to different countries, a clear force majeure clause should be included in the agreement to avoid any confusion relating to the performance of the contract.
Procedure & Place of Executing the Agreement: Since the parties may be located at different places, the agreement may be allowed to be signed from their respective locations and the agreement shall be couriered to each party and the same will be retained as an original copy with respect to both the parties.
As the economic growth of a country rises, the scope of a joint venture increases as well as the foreign entity would look at investing in such countries for the expansion of their business. Although a joint venture provides an easy pathway to enter into a country there are still certain sectors which are restricted like lottery business or gambling or betting. Hence, proper due diligence should be undertaken when forming a joint venture to have a win-win situation for both parties in establishing a business venture.
Authored By: Adv. Anant Sharma & Emilia Chettiar