Medical Negligence: Liabilities & General Defences under the Criminal Laws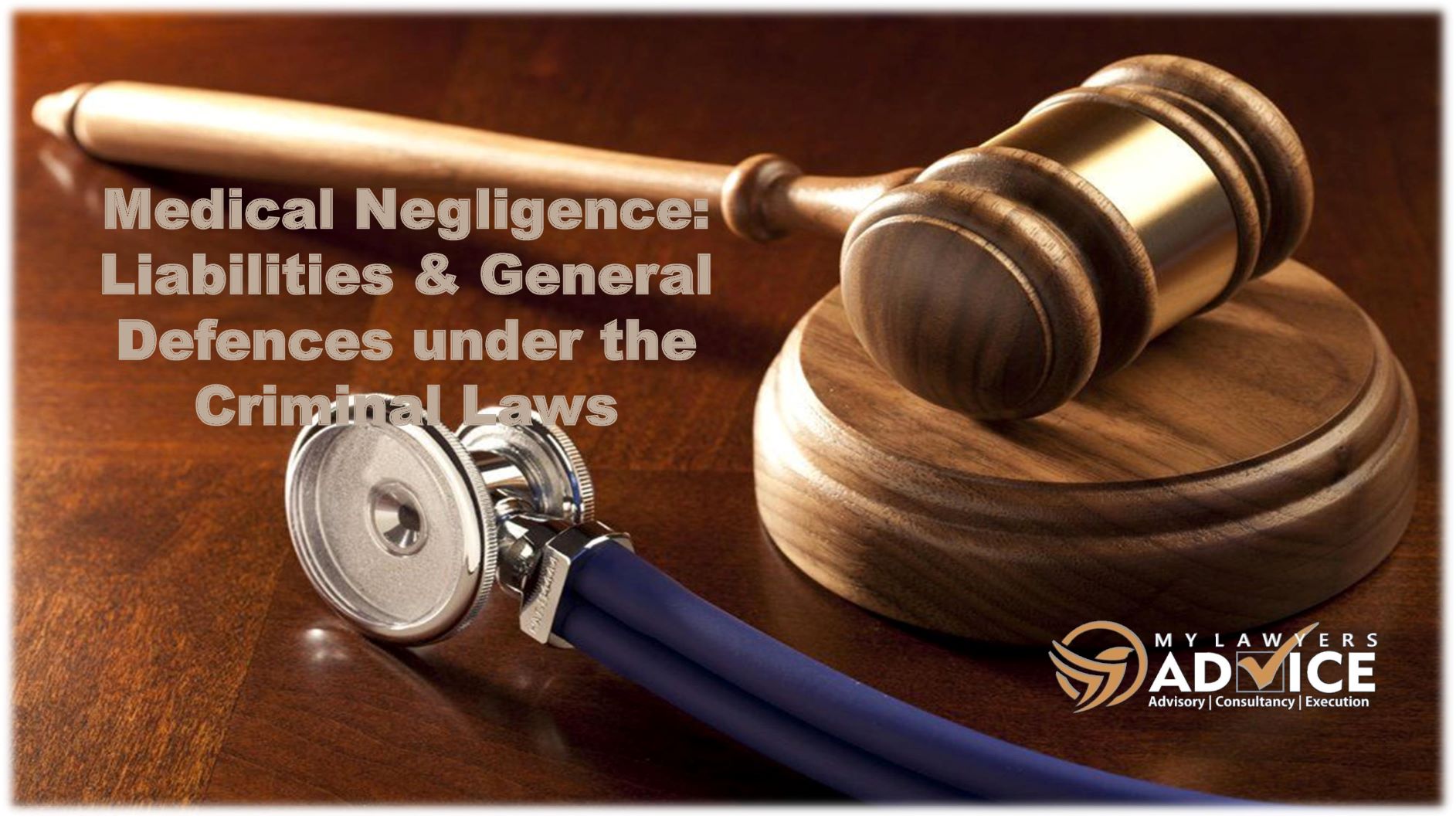 Under the Indian legal framework medical negligence is categorized under three different aspects, i.e.
Criminal Negligence
Civil Negligence
Negligence under the Consumer laws
All these laws are applied according to the act conducted by the Medical Practitioner which includes Doctors, Nurses, Clinics, Hospitals including the Para Medical staff for which punishment and compensation is awarded by the Court as per these laws. The Section 304-A of the Indian Penal Code 1860 deals with criminal negligence, which states that "whoever causes the death of a person by a rash or negligent act not amounting to culpable homicide shall be punished with imprisonment for a term of two years, or with a fine or with both." Doctors are also subjected to vicarious liability, however, we must understand that no human is perfect and even the renowned specialist can make mistakes in detecting and/or diagnosing a disease. Further, the Sections 81, 82, 88 and 92 of the Indian Penal Code 1860 provides defences for doctors accused of criminal negligence. A doctor can only be held liable for negligence if one can prove that he/she is guilty of failure that no other doctor with ordinary skills would be guilty of if acting with reasonable care.
In the case of Dr. Laxman Balkrishna Joshi vs Dr Trimbak Bapu Godbole (1969 SCR (1) 206), the Hon'ble Supreme Court held that if a doctor has adopted practice that is a right course of treatment and considered proper and by a reasonable body of medical professionals who are skilled in that particular field then he or she will not be held liable negligent only because something went wrong. There have been instances where fraudulent and vexatious cases have been registered against doctors which damage their reputation. Therefore, the Hon'ble Supreme Court in the case of Jacob Mathew vs the State of Punjab (Crl. Appeal 144-145 of 2004) directed the central government to frame guidelines to save doctors from unnecessary harassment and undue pressure in performing their duties. However, in some situations the complainants have invoked the principle of res ipsa loquitur or "the thing speaks for itself", meaning thereby that in certain circumstances no proof of negligence is required beyond accident itself. This principle comes into operation only when there is a proof that the accident was unexpected and could not have happened without negligence and lapses on part of the doctor.
Thus, on one hand the Medical Practitioner which includes Doctors, Nurses, Clinics, Hospitals including the Para Medical staff can be held responsible for their actions and inactions under the criminal laws whereas on the other hand there are general defences available to them under the same laws.
Authored By: Adv. Anant Sharma