Legal Remedies available to a Franchisee against Discontinuation of Support by the Franchisor: Best Corporate Lawyer Advice on Franchise Laws in India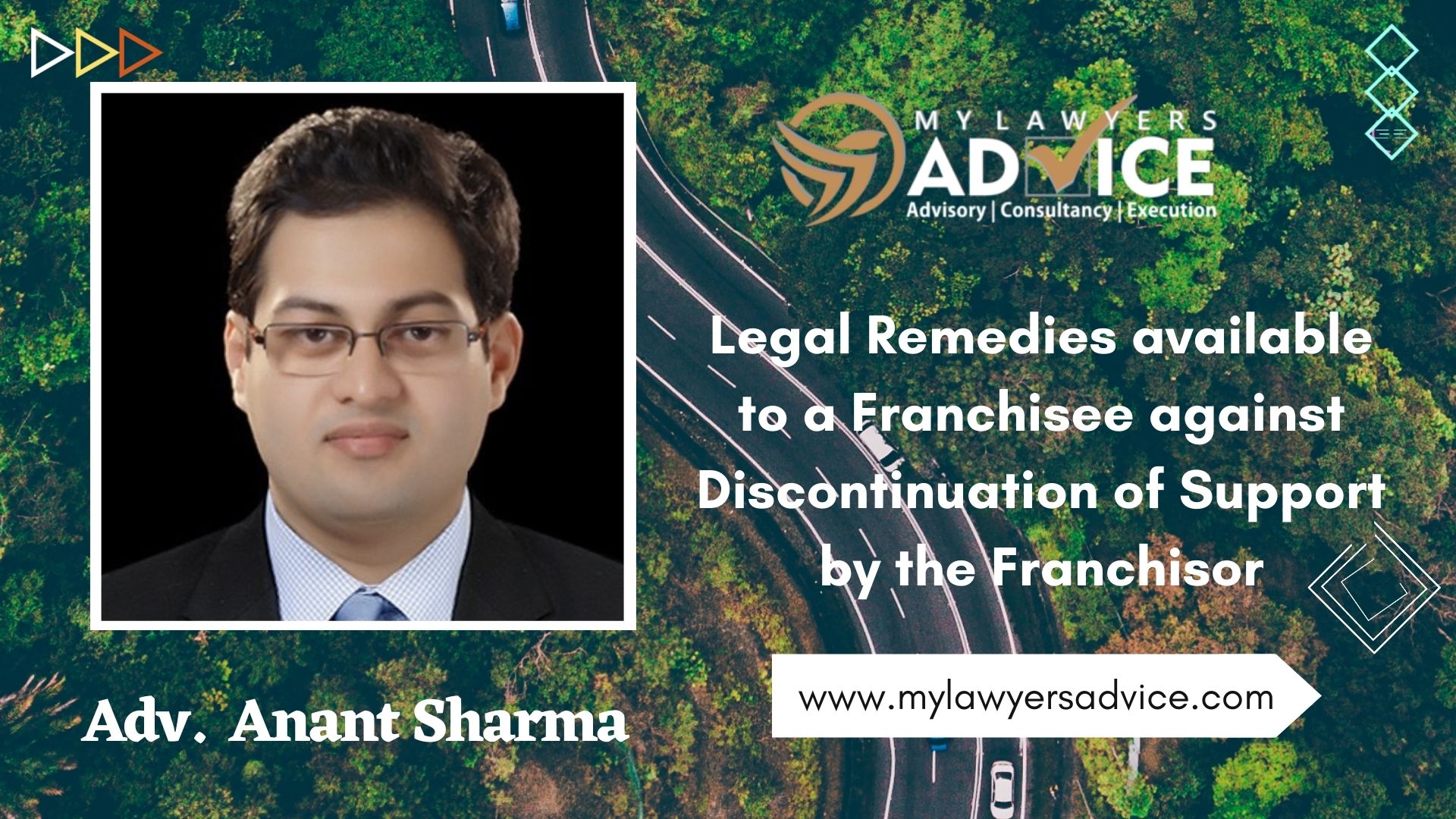 "Entering into a proper Franchise Agreement is the primary legal step or legal compliance which every Franchisee should do before opting for any kind of Franchise. It has been observed that Entrepreneur enter into a Franchise Agreement without any proper corporate lawyer's advice or without obtaining any kind of legal consultation. The end result is that he/she has to suffer the looses and due to the execution of a poor or improper franchise agreement enforceability of a contract becomes difficult. Having said that, there are legal remedies available to Franchisee in case of discontinuation of  support by the Franchisor and the same are discussed here."
Introduction
A support mechanism or a support system lays the foundation for any business and a proper support system is the basic pre-requisite for any franchise business. In a franchise business the Franchisor is under a direct obligation which stands indispensable to ensure adequate and appropriate support mechanism to the Franchisee on regular basis.
Problem of Discontinuation of Support by the Franchisor
It has been lately observed that the Franchisor after obtaining the franchise fees and executing the Franchise Agreement extends support to the Franchisee only for a limited time period. Further, with the elapse of time the Franchisor losses its interest (may be due to other reasons known to the Franchisor) and stops the support mechanism to the Franchisee. As a result the brand losses its sheen and the sales see a hit. The Franchisee further fails to cope up with the situation and faces losses and damages in the business.
Legal Remedies available to the Franchisee against Discontinuation of Support by the Franchisor
In order to ensure that the franchise business runs well and adequate support is received from the Franchisor the Franchisee should ensure that a legal sound and a legally enforceable Franchise Agreement is drafted, executed and well registered. All the terms and conditions and the clauses in the Franchise Agreement are properly drafted and takes care of the interest and well-being of the Franchisee. This helps in bifurcating the rights and liabilities of the parties to the Franchise Agreement.
Furthermore, the Franchisee can exercise the following legal remedies i.e.
1. Under the Commercial Laws: The Franchisee can file a commercial suit for the recovery of the franchise money and can claim damages from the Franchisor for a non-supportive franchise business.
2. Under the Civil Laws: The Franchisor can file a civil suit for specific performance of contract whereby directions can be obtained from a Court having the competent jurisdiction to pass dictum for the specific performance of a contract.
3. Under the Consumer Laws: The Franchisee can also claim protection under the Consumer Protection Act of 2019 and the Consumer Protection Rules of 2020 respectively.
The liability in case of non-performance of the obligations under a Franchise Agreement is purely civil in nature and there are very less chances that the same will attract a criminal liability. Having said that a Police Complaint can be lodged under relevant sections if the Franchisee has all the cogent and compelling reason and evidences in support thereof.
Therefore obtaining proper legal advice from a corporate lawyer is necessary before commencing franchise business.
Conclusion
The sole reason why a franchise business saw its acceptance is the support mechanism offered by the Franchisor whereby a new Entrepreneur shall get easy access to already running and settled business and the Franchisee need not start from scratch. In return the Franchisee pays a franchise fees to the Franchisor and enjoys the benefits of already established brand and business. However, if the Franchisor fails to honour its commitments as per the Franchise Agreement then the Franchisee is left in a lurch and has a lot more to lose. This further creates an imbalance in the entire business and sometimes the losses can never be made good.
Authored By: Adv. Anant Sharma