Legal Challenges faced by an IVF Clinic & their Solutions: Lawyers Advice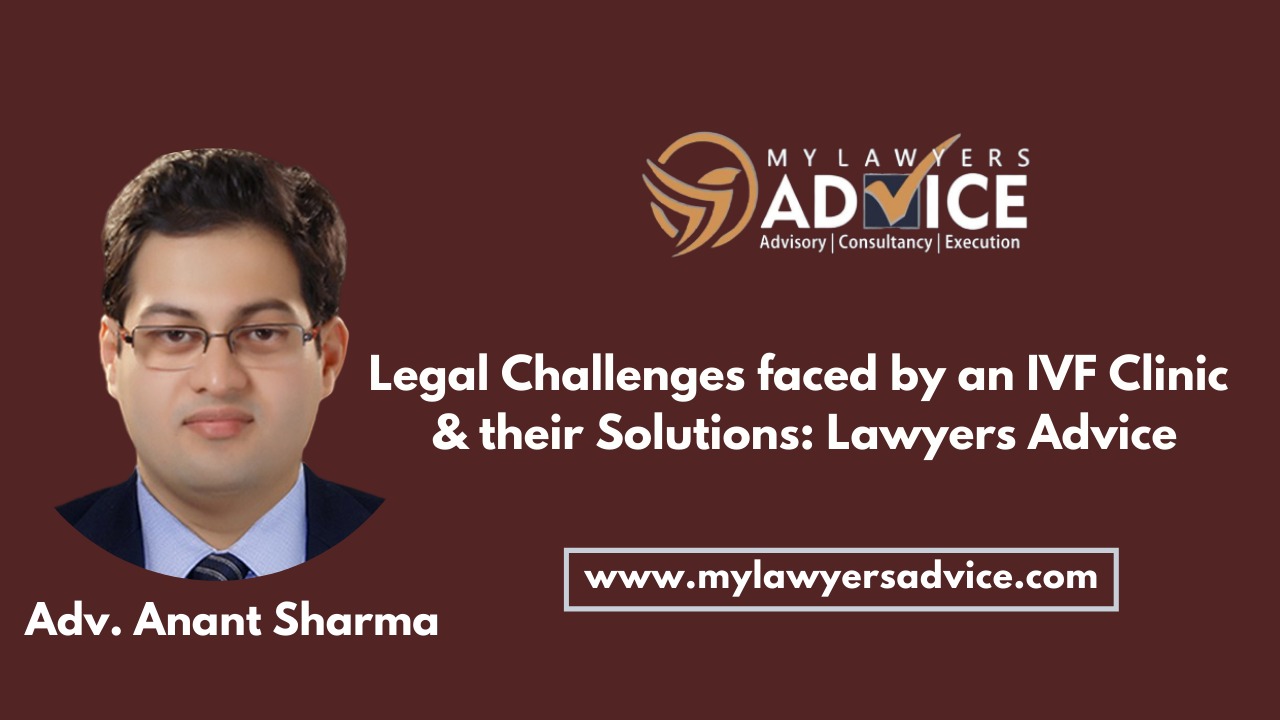 There has been rapid development in the medical sector, thereby leading to numerous medical inventions such as stem cells, human cloning, Assisted Reproductive Technologies (ART) etc. Infertility refers to the incapability to have a child and there have been numerous advancements in this field in the form of Assisted Reproductive Technology (ART). In Vitro Fertilization (IVF) is an essential part of ART and is essentially used as a treatment for infertility. However, it is still a growing phenomenon and not a lot of people come forth to seek treatment. This is generally a very expensive affair and there tends to be a gap in the skills and technical expertise involved.
Assisted Reproductive Technology (ART)
Assisted Reproductive Technology (ART) is governed under the ART (Regulation) Bill in India. There are numerous types of ART's or test tube baby technologies available today such as IVF, GIFT, ZIFT, Donor eggs or sperm and Surrogacy. Since this is an artificial way of procreating, it has a lot of social, legal and ethical issues involved. There are no statutory regulations in India as such, as of now but this form of reproduction has been recognized by the Government of India Ministry of Tourism Policy. In 2005, the Indian Council of Medical Research (ICMR) and National Academy of Medical Sciences (NAMS) came out with certain guidelines for accreditation, supervision and regulation of ART clinics in India. The 2009 18th Law Commission Report also submitted a report highlighting the need for legislation to regulate assisted reproductive technology clinics. However, no statutory provision exists as such but the ART Regulation Bill was drafted in 2008 and many other versions were drafted thereafter. However, the most recent version was approved by the Union Cabinet in 2020. This enables people who are unable to conceive naturally to rely on state-of-the-art technology to get pregnant and bear children and delivering safely. There is a constant lack of regulation, low costs and laxity in operations due to which people prefer India as their destination for IVF Procedures. The ART Bill is aimed to restrict the services in India to only Overseas Citizens of India (OCIs), People of Indian Origin (PIOs), Non- Resident Indians (NRIs) and foreigners married to Indian citizens but not Foreigners. However, there would be restrictions imposed on these couples as well.
Legal Issues & Problems faced by IVF Clinics
The process of IVF ignites numerous legal issues such as multiple people claiming to establish parental rights, legal complications arising during divorce relating to custody, endangering life of the woman during the process etc. IVF Clinics play a huge role in this as in most scenarios they find themselves at the root of these controversies. There are a plethora of cases wherein the clinics have not performed their duties to the fullest and have caused negligence or committed fraud while using this method. However, the clinics are not always at fault as sometimes the individuals who have gotten treatment do not come forth for follow up check ups or tend to disregard the opinions of the professionals in the clinics and then when such discrepancies arise, they blame the clinics for not doing their part. Medicine is a meticulous profession and the results are not always positive or conclusive. A lot of factors regarding the health of the person come into play. If people accept the benefits, they must accept the risks as well.
The Indian Council of Medical Research (ICMR) came up with certain guidelines pertaining to the ART procedure. It stated that the State Appropriate Authorities should necessarily regulate, register and supervise the Clinics that are involved in any of these activities.
• There should be proper registration of the fertility clinics that deal with treatments of infertility and involve the use and creation of embryos outside the body.
• The qualification of the personnel should be mandatorily identified
• There should be written consent of the couple.
• The Patients must be given proper knowledge and counseling about the repercussions and the process of the treatment.
• It is essential to get all research projects approved by the Institutional Ethics Committee.
Judgments in favour of IVF Clinics
• No cure or no success of an IVF Procedure is not considered to be medical negligence, as was held in Dr. M Kochar v. Ispita Seal. (2007 SCC OnLine NCDRC 1189)
• In Roe v. Minister of Health ([1954] 2 Q.B. 66), it was held that if liability is imposed on doctors and medical professionals about everything that goes wrong, it would be a disservice to them. Although due care for the patient must be insisted upon at every point, something that is misadventure must not be condemned as negligence.
• In Kusum Sharma v. Batra Hospital [(2010) 3 SCC 480] it was held that negligence cannot be attributed to the doctor as long as he has performed his duty with reasonable skill and competence.
Legal Advice & Legal Solutions for IVF Clinics
Keeping the above cases in mind, it can be seen that IVF Clinics have time and again been involved in numerous litigations. In order to avoid this, it is essential that the IVF Clinics follow the guidelines set by ICMR and do their best in explaining the repercussions and alternatives to the patients. The Clinics can keep a log and call the patients who do not show up for follow-ups. The Clinics should also express the fact that this is not a guaranteed plan of action and there are instances where this treatment will not work. As a safety measure, they can also get a disclaimer signed that that defines the terms and conditions and repercussions of the treatment so that the parties know what they are getting into.
Authored By: Adv. Anant Sharma & Ankita Sethi