Indian Defense-Tech Startups & their Investment Term Sheet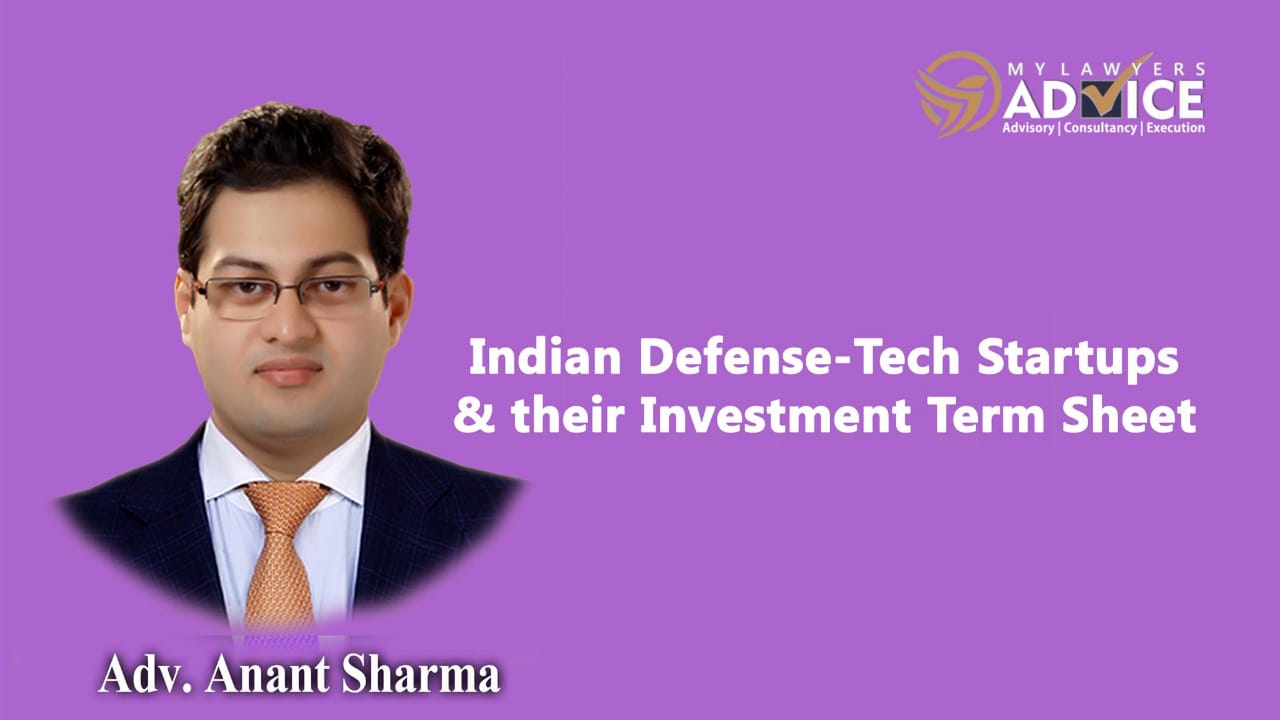 The #defense sector has seen a high degree of priority from the Modi government which includes the adoption of a Public Private Partnership (PPP) Model vis a vis setting up of several "Startup Incubation Centers" at different State owned research facilities wherein prima facie importance is given towards innovation, development of new technologies and indigenization of defense products. Having said that, the Research & Development (R&D) of technologies involves huge amount of infusion of funds which the Defense-Tech startup finds difficult to arrange for. Thus, the need arises for the involvement of an "Angel Investor" who is willing to infuse #funds into the startup and help in the developmental phase of the different #technologies. The "Angel Investor" comes with its own "Investment Term Sheet" which carries different clauses and is a lawful agreement and/or contract which is legally enforceable before the Courts of law. The Entrepreneur is obliged to sign the contract before the investment can be agreed upon and the funds can be transferred.
However, the #Entrepreneur should keep in mind before executing the contract i.e.
Dilution of Equity: The investment comes with a cost and nothing is free. The Entrepreneur has to dilute his/her shareholding in the startup and has to allot shares to the incoming Investor in order to obtain funding, however, the Entrepreneur has to bargain hard and should ensure that he/she does not become a minority shareholder in his own startup.
Controlling Rights: The Entrepreneur should always advocate and should be audacious enough to have the control over the management of the Startup and the development of the technology. "Ideas are a dime a dozen. People who implement them are priceless".
Ownership of the Intellectual Property (IP): There should be a clear understanding with respect to the ownership of the #IP with respect to the development of technology in question vis a vis the further developments.
Scope for further #Investments: The #equity holders should jointly decide upon the scope of further investments, in case the same is required in the future and the effects of the further investments
Term of Infusion of Funds: The fact with respect to the form and the manner in which the funds shall be infused needs to be outlined appropriately i.e. whether it is a one time investment and/or the infusion of funds is/are done by way of tranches etc.
Contingencies: There should always be a "Contingency Plan" or "Plan B" as the future is uncertain and the same should be well included in the contract.
The Entrepreneur is hereby advised and put to caution that the "Investment Term Sheet" is a legal contract and the parties to the same are legally bound by its terms and conditions and thus before executing the contract and taking the investment the Entrepreneur should thoroughly review the terms and conditions attached therewith. The need for funds should not become a pitfall for the #Startup. Furthermore, the Entrepreneur should also try to get his/her startup registered with the "Startup India" initiative of the Government of India while efforts should be made by the Entrepreneur to approach the Defense Research & Development Organisation (DRDO) which has launched the Technology Development Fund under the Make in India initiative and obtain funding for the development of the technologies.
Authored By: Adv. Anant Sharma & Sanskriti Taori