Important Documents required for Exports from India: Best Corporate Lawyer Advice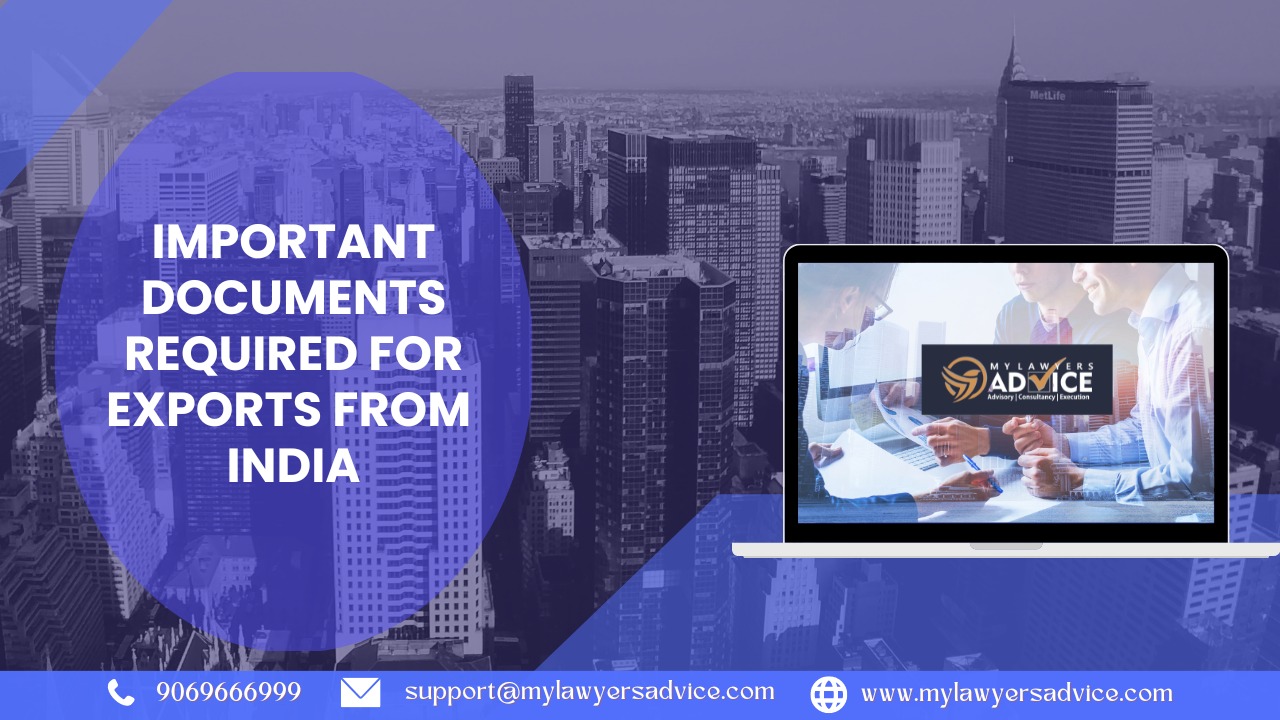 India's export industry is expanding and includes everything from clothing to food. An export firm must include export documentation since they help the seamless flow of commodities, services, and transactions on the international market. The export documentation crosses international boundaries with each shipment. This paperwork needs to be revised and finished out correctly in order to avoid any legal issues in the coming years. These records are used for tax evaluation and verification of the results of quality control investigations, in addition to providing information on the product and its destination. India made a significant improvement to the "Ease of Doing Business" today by decreasing the number of obligatory paperwork needed for every import and export of commodities to three. Following the publication of the DGFT's Notification, just three papers per person would be required for export.
1. Bill of Landing/ Airway Bill
It serves as both an agreement and a statement seen between carrier and the sender and is provided by the carrier. The carrier agrees that the items have been acquired from the supplier in reasonable condition and are prepared for shipping under the terms of this Bill.
2. Commercial Invoice cum Packing List
The exporter prepares a Commerce Receipt and submits it to Custom authority once the goods are ready to ship. Before the cargo may start, the authority's authorization is necessary. A list of the products that must be exported is constructed with correct packing.
3. Shipping Bill/ Bill of Export
In order to get customs formalities for exports, a shipping bill is required. It is granted by the "Indian Customs Electronic Gateway (ICEGATE)", which allows shipping bills to be filed electronically. A necessary paperwork, the shipping bill must be filed before the supplier prepares to ship the products.
However, in addition to these three, the following papers may also be needed when shipping internationally.
1. Proforma Invoice
When you demand upfront payment from your engaged clients, a proforma invoice is a bill that is necessary. A proforma invoice contains information on the item, the cost, shipment, multiple payment, etc.
2. Purchase Order
The purchaser acknowledges the transaction with the shipper with a Purchase Order (PO) when the Proforma Invoice is provided. The purchase order specifies information about the items, including their price, money, delivery information, and specifications.
3. Certificate of Origin
It is a unique document that gives information on the jurisdiction of the items' origin, or the location where the goods were made.
4. Bill of exchange
The Bill of Exchange is a written instruction to the purchaser to pay the exporter the specified sum.
5. Letter of Credit
In order to uphold the buyer purchase order, the bank guarantees this crucial certificate.
6. Quality check
A quality inquiry might be requested by an importer prior to the dispatch of the products. This bill covers evaluating, testing, and inspecting items for quality. When shipping goods, the exporter should be prepared with the certificate.
7. Phyto-sanitary certificates and fumigation certificates
The merchant requests the phytosanitary certificate and the fumigation certificate in order to verify that the items meet elite level standards and regulations. When transporting agricultural goods from India, the phyto-sanitary certificate is required. It is a required document; thus, exports must supervise this accreditation when they export.
Authored By: Adv. Anant Sharma & Raghavendran Keerthana
#mylawyersadvice #anantsharma #laws #legal #franchise #franchisee #entrepreneurship #work #trending #sales #business #investing #India #currency #management #payments