Foreign Direct Investments (FDI) in Media & Entertainment in India-2: Lawyers Advice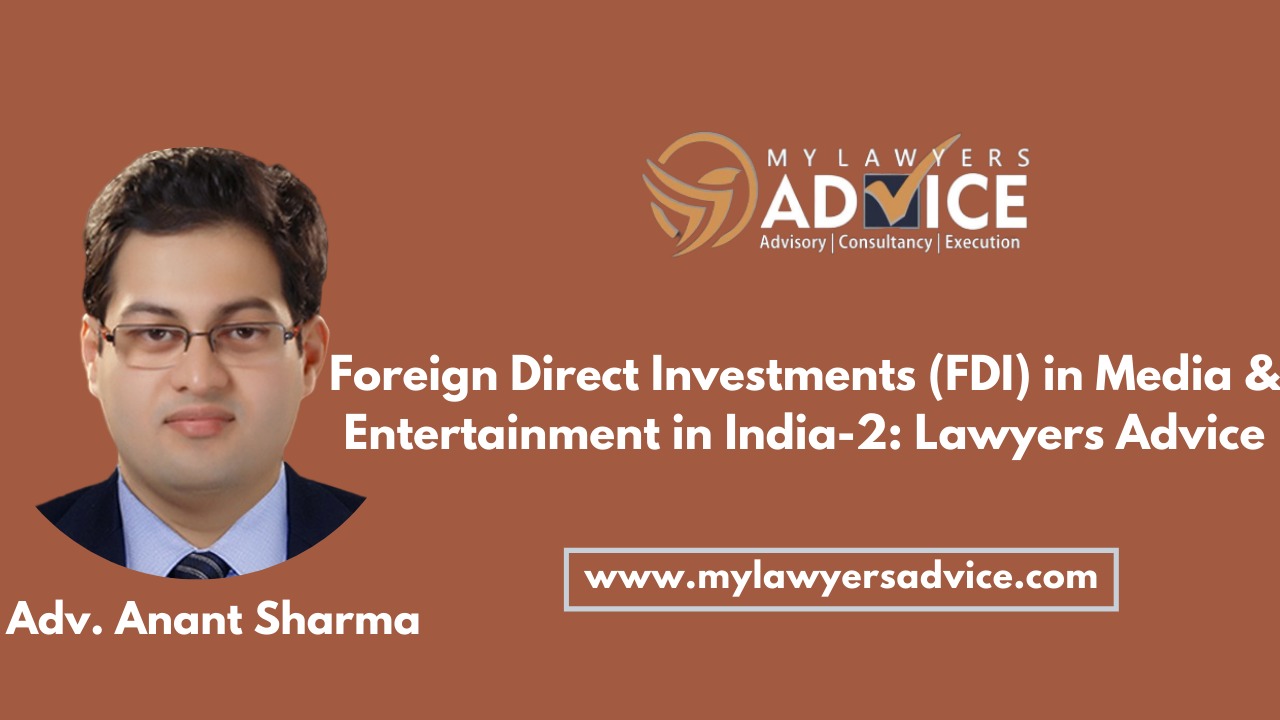 Company Registrations, Compliances, Licenses & Permits to be procured:
• Uplinking License requirement for businesses of uplinking television channels from India.
• Downlinking License requirement for businesses of downlinking television channels from India.
• License for setting up and operating of Direct-To-Home (DTH) services in India.
• Licenses regarding Intellectual Property Rights (IPR) like Copyright, Trademarks, Patents, Trade secrets, etc. must be procured to ensure compliance with the regulations and policies.
• Certificate from the Central Board of Film Certification (CBFC) or Censor Board is provided if an Indian or foreign film is fit for public display.
• Certificate of Registration or renewal mandatory for cable operator, to the registering authority to operate as a cable television network.
• Registration under the Press and Registration of Books Act, 1867 with the Registrar of Newspapers, must be done by newspapers and periodicals in India.
• Broadcasting entities compliance with regulations provided by Department of Telecommunications from time to time.
• As per the guidelines issued by the Ministry of Information and Broadcasting (MIB), a foreign broadcaster telecasting various channels in India has to mandatorily appoint an Indian company either by way of contract or otherwise to act as its representative with regards to the guidelines issued.

Precautionary Measures:
• The Licensor has the right to take measures by modifying or incorporating certain conditions that are necessary in the interest of the public, or interest of national security for proper broadcasting services.
• The broadcasting service installation is carried out by the Licensee wherein the licensee must take precautions to ensure that such installation is not contravening any statute or policy.
• The producer's intellectual property rights must be protected and necessary precautions like ensuring the intellectual property is not copied or infringed and proper incorporation of agreements for carrying out any licensing, assignment or transfer of the intellectual property, must be observed.
• Ensuring proper content is displayed so as to avoid any revocation of license or imposition of penalties.
Functioning & Management:
• Ensure proper functioning of dissemination of information that reaches a large audience for informative purposes.
• In order to ensure the company is functioning properly, consumer behaviour must be understood, and ways to cater to the consumers must be diligently thought through for effectively managing the company.
• With the rise in advance technology and shift in the consumer behaviour, companies must be updated with the new changes in technology and must come up with effective strategies to sustain the functioning of the business.
Taxation Aspects:
• Income Tax Act, 1961
1) Tax is applicable on income that arises from license, transfer, or assignment of IPR and satellite broadcasting rights.
2) Income tax is applicable to India and foreign film production companies and artists.
• Sales Tax/ Value Added Tax (VAT)
1) Any transaction involved in transferring of copyrights may fall under the purview of VAT or Sales Tax, since Copyright is an intangible good.
2) Sale of music, videos and films are liable to VAT.
3) Transfer of rights to use a particular good is considered as a sale, and therefore it may result in Tax liability.
• Entertainment Tax
1) Tax on entertainment is entertainment tax. Cinematographic film falls under entertainment tax as it is reflected in the prices of tickets.
2) Entertainment tax is also paid by cable operators.
Export Potential:
• According to the Ministry of Commerce and Industry, exports from Media and Entertainment sector is likely to increase to US$ 10 million in the next five years.
• In 2018, the film sector had a potential growth which crossed US$ 100 billion in domestic theatrical revenues.
Recent Developments:
• FDI inflow in India since 2019 in the Information and Broadcasting sector stands at US$ 8.71 billion according to the Department for Promotion of Industry and Internal Trade (DPIIT)
• SonyLIV app which is India's first premium video on demand platform (VOD) has crossed 100 million downloads as of 2019.
• Netflix Inc. has decided to spend Rs. 3000 crores on content in India.
• Tencent Holdings Ltd. a Chinese internet investment company, has acquired a stake in Gaana, an Indian music streaming platform for US$ 111 million.
• DailyHunt, a news running mobile application which is operated by Verse Innovation Pvt. Ltd., a telecommunication service, will receive investment of US$ 60 million led by Goldman Sachs Investment Partners.
Authored By: Adv. Anant Sharma