Evidence & Burden of Proof under the Prevention of Money Laundering (PMLA) Act of 2002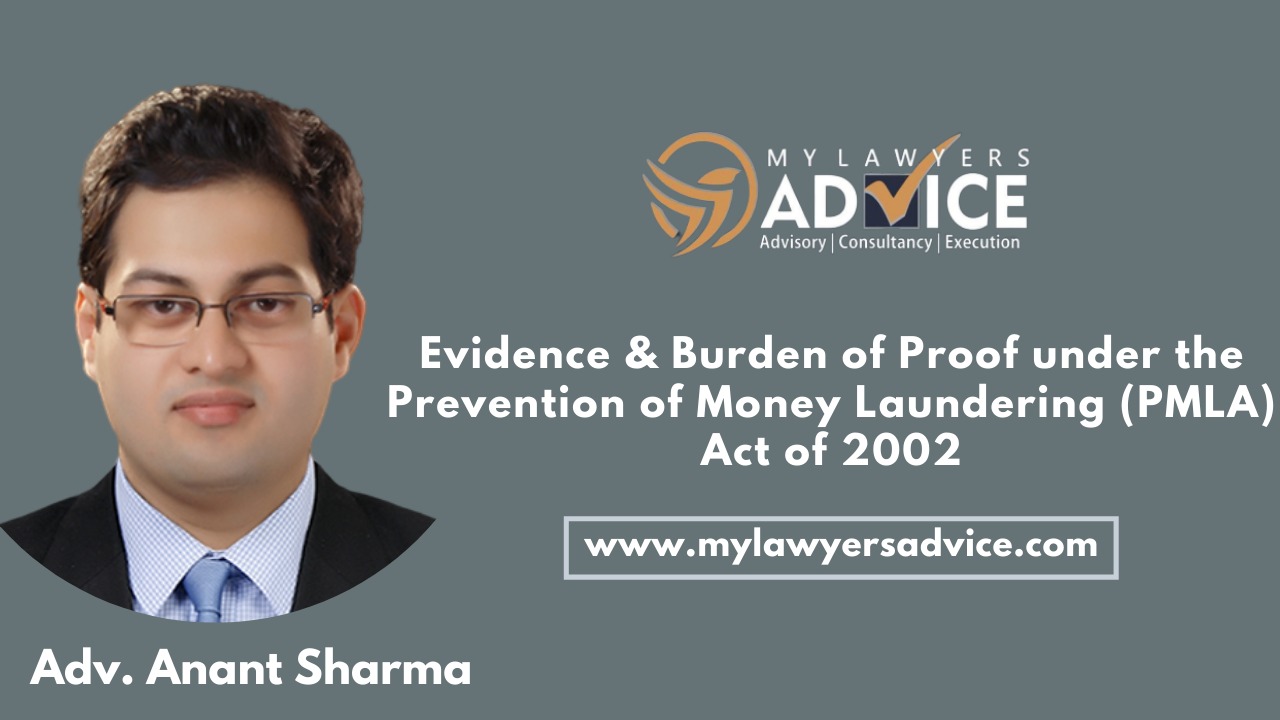 The Prevention of Money Laundering (PMLA) Act of 2002 PMLA talks about attachment of "Proceeds of Crime" related to Money Laundering, the expression "proceeds of crime" is defined under clause (u) of Section 2 (1) of the PMLA Act of 2002 as: "Any property derived or obtained, directly or indirectly, by any person as a result of criminal activity relating to a scheduled offence or the value of any such property (or where such property is taken or held outside the country, then the property equivalent in value held within the country)."

The definition of "Proceeds of Crime" can be broken down in to three types of properties:-
property acquired, directly or indirectly, by any person as a result of criminal activity related to a scheduled offence
value of any such property
the property equivalent in value held within the country
Under the PMLA Act of 2002, Search and Seizure of such Incomes can only be conducted upon the satisfaction of the conditions mentioned in Section 17 of the PMLA which are:-
(a) the Director or any other officer authorized by him possesses some information,
(b) that based on such information, he has 'a reason to believe',
(c) the reason for such belief is recorded in writing
(d) there are reasons to believe that any person,
(i) has committed any act which constitutes Money-Laundering, or
(ii) holds any proceeds of crime involved in Money Laundering, or
(iii) holds any records relating to Money Laundering, or
(iv) holds any property related to crime.
Under Section 23 of PMLA, any proceeding relating to the proceeds of crime, an assumption is raised by the authority or Court against the accused that he is guilty unless proven otherwise. The burden of proof (according to Section 24), lies on the accused and this presumption against the accused or any third party is good enough to discharge the onus of the authorities under the PMLA Act of 2002.

The Burden of Proof can be discharged by the Accused by the following ways:-
By proving mischief of the Investigating Officer while following Section 17 during Search and Seizure of Proceeds of Crime.
By proving that the so-called Proceeds, were not involved in any criminal activity whatsoever.
By disclosing his/her legitimate sources of incomes which will prove the legitimacy of the Money/Incomes seized as Proceeds.
In the case of B. Rama Raju, S/o B. Ramalinga Raju Vs. Union of India (UOI) [2011] 108 SCL 491 (AP), presumption in respect to inter-connected transactions under Section 23 of the PMLA Act of 2002 was challenged. The issue was whether presumption enjoined by Section 23 was unreasonably restrictive. It was held that Section 23 imposes a rule of evidence and rebuttable presumption considered essential and integral to the attainment of purposes of the Act. Thus, the validity of the provision was upheld.

Shifting of the burden of proof under Sections 3 and 24 of PMLA was also challenged. The issue was whether shifting/imposition of the burden of proof, by Section 24 is arbitrary and invalid and applied only to trial of an offence under Section 3. It was held that where the property is in ownership, control or possession of a person not accused and where such property is part of inter-connected transactions involved in money laundering, then and in such event, presumption enjoined in Section 23 comes into operation rather than the inherence of the burden of proof under Section 24. Therefore, a person other than the accused is not imposed by the burden of proof as per the Section 24, however, on the person accused, the burden applies for attachment and confiscation proceedings also.
Authored By: Adv. Anant Sharma & Chhatresh Kumar Sahu