Evidence and Burden of Proof under the Foreign Exchange Management Act (FEMA) of 1999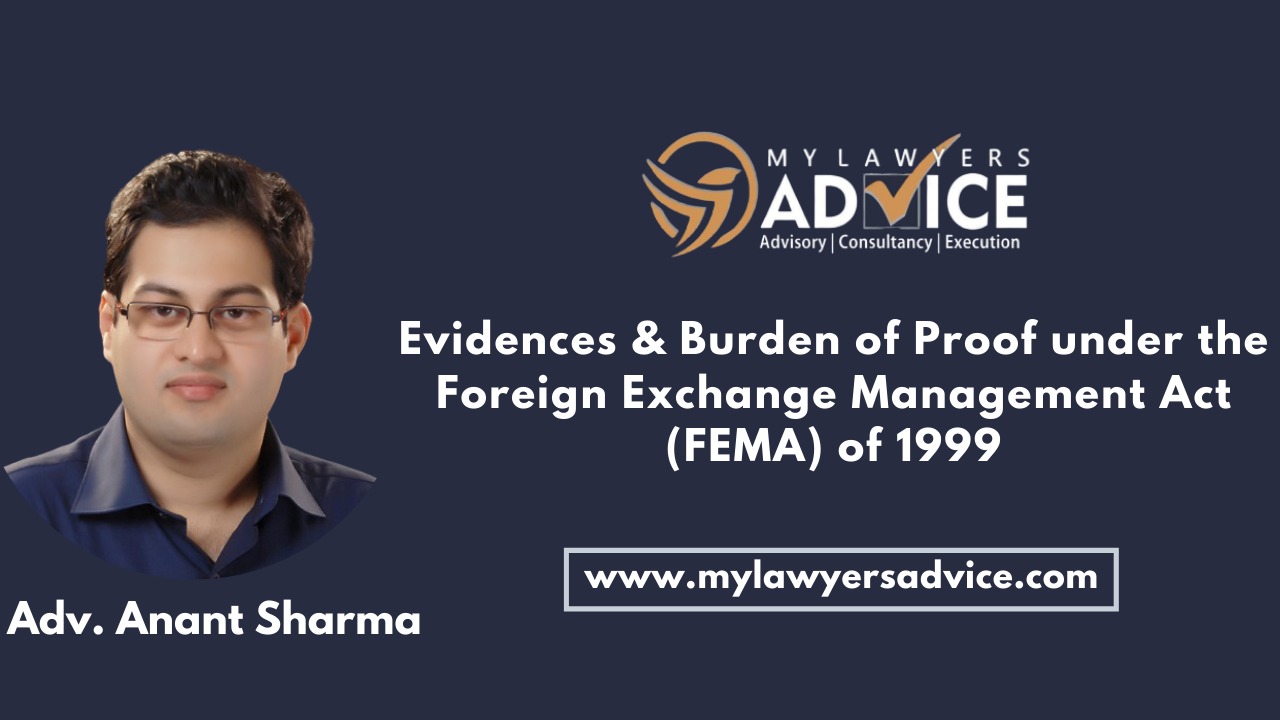 Under the Foreign Exchange Management Act (FEMA), 1999 all the documents related to foreign transactions are considered as evidence and can be used during the investigation of contraventions of FEMA provisions.

According to Section 12 of FEMA, the Reserve Bank of India (RBI) may, at any time, through its officials can inspect business of any authorised person as necessary, to:-
(a) verify the correctness of any statement, information or particulars provided to RBI;
(b) obtain any information or particulars which the accused has failed to furnish on being called upon to do so; (c) secure compliance with the provisions of this Act or any rules, regulations, directions or orders made thereunder.

It shall be the duty of every authorised person to produce, to any officer inspecting such books, accounts and other documents in his custody or power and to furnish any statement or information relating to the affairs of such person, company or firm as the said officer may require within such time and in such manner as they may direct.

In Section 37 of FEMA, it is stated that, where any document,
(i) is produced or furnished by any person or has been seized from the custody or control of any person, in either case, under this Act or any other law; or
(ii) has been received from any place outside India in the course of the investigation of any violation under this Act alleged to have been committed by any person,
and such document is tendered in any proceeding under this Act in evidence against him, or him and any other person who is proceeded against jointly with him, the Court or the Adjudicating Authority, as the case may be, shall—
(a) presume, (unless the contrary is proved) that the signature and every other part of such document which indicates to be in the handwriting of any particular person is in that person's handwriting and that it was executed or attested by that person;
(b) admit the document in evidence notwithstanding that it is not duly stamped if such document is otherwise admissible in evidence;
(c) in a case falling under clause (i), also presume, unless the contrary is proved, the truth of the contents of such document.
Under FEMA, the burden of proof lies on the Investigating Officer to prove that the accused is guilty. In other words, a person is innocent, unless proven guilty by the ED and RBI.

Some important points to be considered during Search and Seizure under FEMA:-
The accused should furnish all the documents related to foreign as well as domestic transactions.
The accused must be informed about the charges against them.
The Investigating Officer (IO) must take a writing sample to compare the handwriting and signatures in the seized documents.
The accused (in his/her defense) can prove that the documents are not genuine and the contents of the document are false.
After completion of the search, the accused must cross-check the seized documents and all the evidence
Authored By: Adv. Anant Sharma & Chhatresh Kumar Sahu