Entry Strategies for Franchise Businesses in India: Best Corporate Lawyer Advice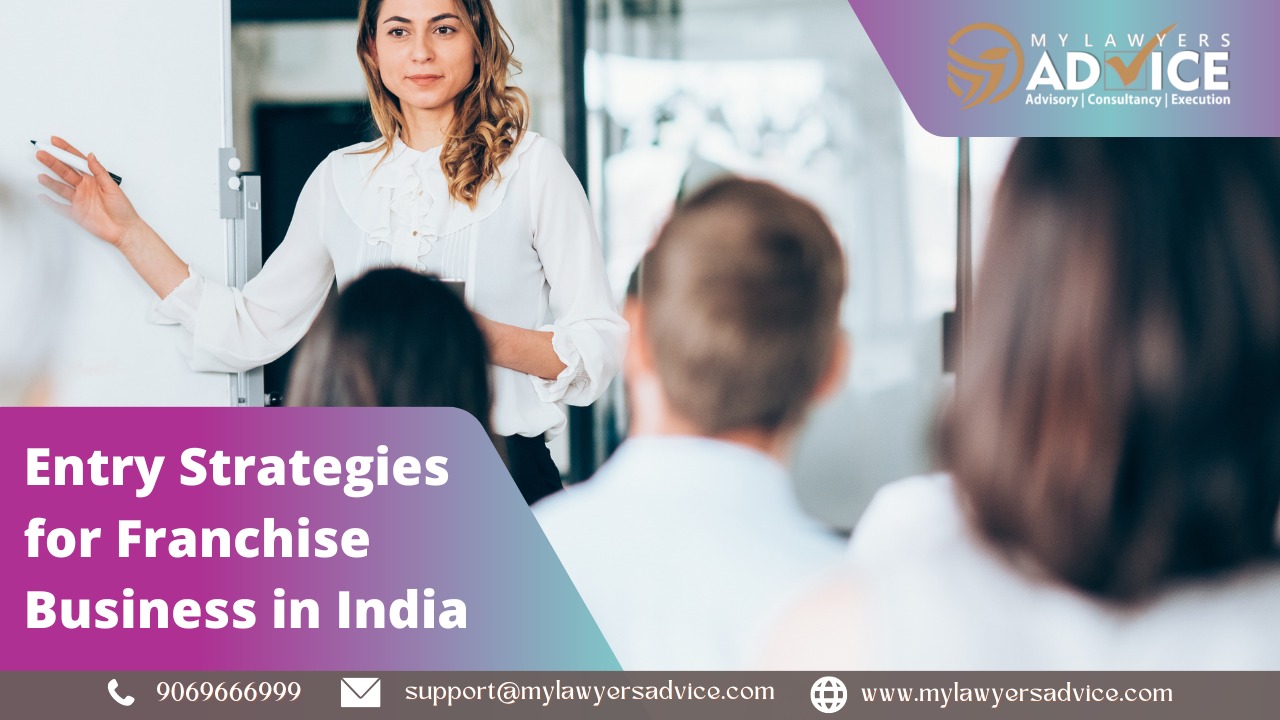 Foreign franchisors can choose from a variety of business structures that are frequently utilised for establishing a franchise business since the connection between the franchisor and franchisee is defined by a contract. These covers giving Indian franchisees the right to get a "single-unit franchise", a "multi-unit franchise", an "area-development agreement", or "master franchise" rights.
The foreign franchisor is not required to establish a presence in India, although some do create a subsidiary or form a joint venture to have more control over the franchised firm.
1. Establishing a Subsidiary in India:
Under this agreement, the franchisor's Indian subsidiary is given the authority to (1) sell "sub-franchises" in India and (2) open and run franchise locations there directly. Utilizing a subsidiary has the main benefit of allowing the franchisor to maintain complete control over the franchise firm. The franchisors that are prepared to actively manage the franchisees in India daily are best suited for this arrangement.
2. Joint Venture Arrangement with an Indian Party:
In this approach, the franchisor forms a joint venture with an Indian partner and then provides the joint venture business master franchise rights. Due to the higher likelihood of disagreements emerging between the parties, a "joint venture arrangement" is typically not the best form for franchise agreements.
A franchisor that wants to form a subsidiary or form a joint venture should be aware of a few critical considerations, including transfer pricing regulations, adherence to government policy on foreign direct investment, and ongoing legal compliance.
1. Adherence to the Foreign Direct Investment Regulation
In India, a franchisor is permitted to establish a joint venture or a subsidiary firm under the conditions of the country's "foreign direct investment policy" (FDI Policy). The FDI Policy gives a thorough prescription on the sorts of entities that may be established in India by a foreign person or entity and explains any permissions necessary for doing so, as well as the requirements that the Indian entity must follow when operating its business. According to the current FDI Policy, it is unlawful for a foreign person or organisation to establish an Indian firm to engage in certain specific commercial activities, including gaming, betting, and casinos. A foreign person or corporation is also prohibited from owning more stock in an Indian firm that engages in certain prohibited commercial activities, such as "multi-brand goods retail trade," than the permitted maximum. The key provisions of the joint venture agreement, which outline the obligations of each party, the capitalization of the joint venture entity, the consequences of defaults, and the resolution of deadlocks, should be framed by the FDI policy, the "Companies Act (2013)", and current foreign exchange control regulations.
2. Transfer Pricing Conditions
Transactions between a foreign franchisor and its Indian subsidiary or joint venture partner may be regarded as "associated parties," and they must be conducted on an "arm's-length basis". Additionally, the franchise fees, royalties, and other charges made by the franchisor according to the franchise agreement shall adhere to the transfer pricing guidelines established by the "Income-tax Act of 1961. (IT Act)".
3. Day-to-Day Legal Compliance
A franchisor's "subsidiary or joint venture organisation" will be required to operate following all relevant Indian laws. This includes abiding by all applicable business, employment, tax, foreign exchange, and privacy laws. Depending on their real business activity, the subsidiary or joint venture organisation may also need to abide by legislation relevant to a certain industry. For instance, the Food Safety and Standards Act of 2006 also mandates compliance for businesses that run restaurants. The intricate network of laws and statutes must be understood to navigate the judicial system.
Authored By: Adv. Anant Sharma & Lehar Saini
#mylawyersadvice #anantsharma #laws #legal #franchise #franchisee #entrepreneurship #work #trending #sales #business #investing #India #currency #management #payments