Cryptocurrency: Definition | Legitimacy | Types of Cryptocurrency Fraud | Legal Remedies | Precautions: Best Corporate Lawyer Advice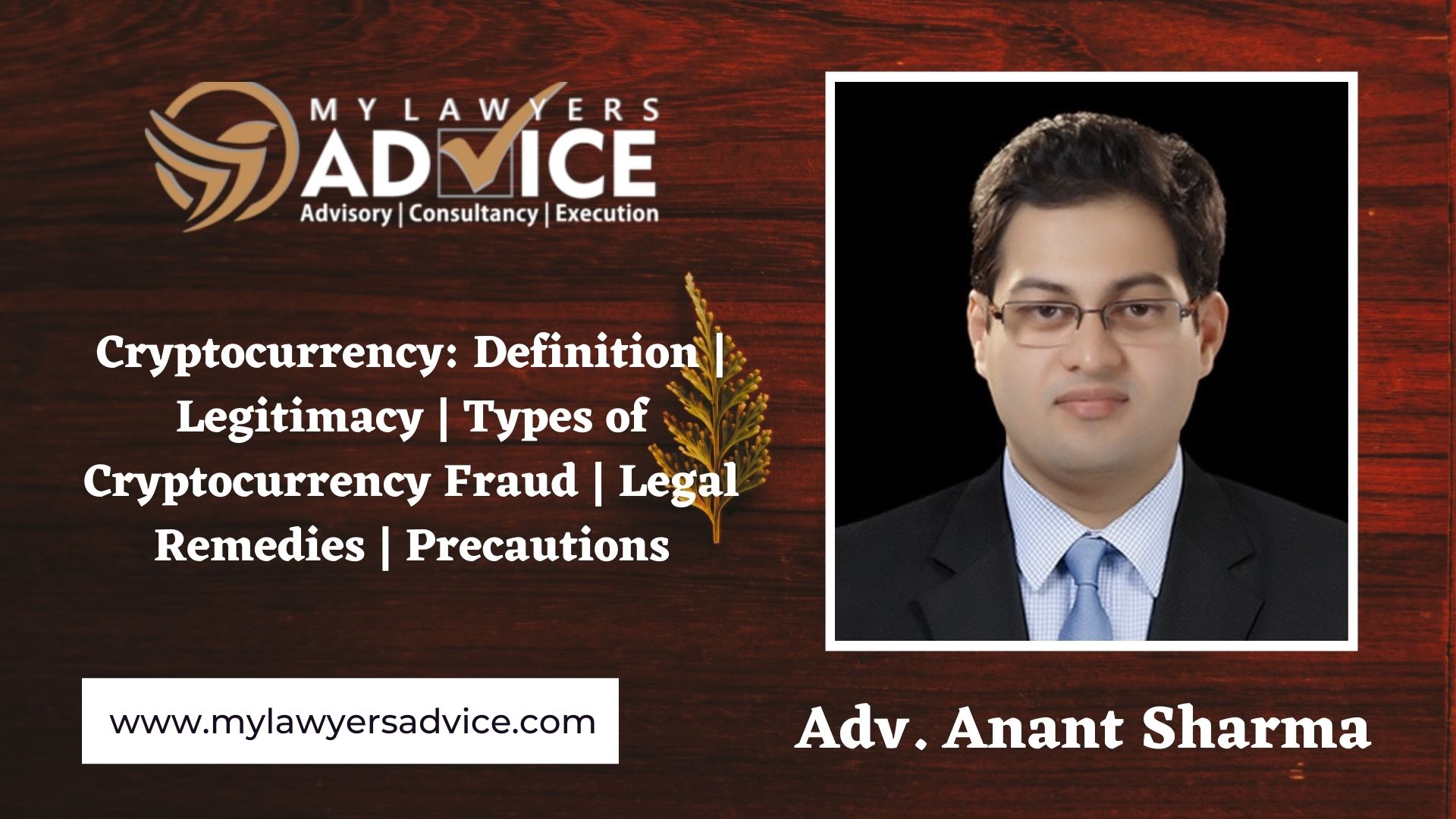 "Cryptocurrency remains a grey area and has a lot of confusion around it. A lot of mining is being done, however, the legal sanctity behind cryptocurrencies remains an important question. There are different circulars issued by the Reserve Bank of India and the Ministry of Finance of the Government of India and the same have been discussed herein in detail. The exact legal status of the cryptocurrency is explained and whether one should be investing in the same is also dealt in detail. "
According to research by Crypto Head, in the United States of America, in 2016 340 crimes involving cryptocurrencies were reported and in 2020 crimes involving cryptocurrencies reached a figure of 82,135 which is 24,000% increase in reported crimes. Similar conditions are in the United Kingdom which in 2016 reported 0 crimes involving cryptocurrencies but till 2020 there had been 8,801 crimes involving cryptocurrencies. Australia also reported 9,689 crimes involving cryptocurrencies till 2020.
Sadly, India is not far behind in crimes involving cryptocurrencies. As per research of the Coin Telegraph, between 2017 and 2019, Indian investors lost nearly $500 million in crimes involving cryptocurrencies. Various ponzi schemes, pump and dump schemes etc. are running in India. In the Morris Scam, fraudsters lured nearly 11 lakh people to invest nearly 15K rupees in the fake cryptocurrency named Morris Coin with a promise to pay Rs. 270 per day for 300 days. Similarly, Amit Bhardawaj defrauded 8000 people using a ponzi scheme and gathered a whopping amount of Rs. 2000 crore. He was recently arrested at the Delhi Airport. Therefore, an attempt is made through this article to educate readers about the pernicious nature and legality of cryptocurrency.
What is a Cryptocurrency?
Cryptocurrency is a digital currency or virtual currency which is used as a medium of transaction like money. But unlike money it is in a digital form. It is also decentralised means it is based on block chain technology. In the present days, there is a government, banks and various other authorities which print, regulate and maintain currency of a country. But with the evolution of cryptocurrency such government, banks and various other authorities are no longer required. As with the help of blockchain technology all transaction history is maintained and it is kept hidden with the help of encryption. So, no one could see between whom a transaction took place but everyone using cryptocurrency can see how much of the transaction took place. Due to this, transparency is maintained and thereby increases trust of its users. Unlike in the present money system, everything is under control of the government, banks and various other authorities and thereby increases chances of corruption and scams.
According to the Statista, there are 5,840 cryptocurrencies worldwide between 2013 to August 2021. Among all the cryptocurrencies, at the time of writing this article, Bitcoin is the most expensive cryptocurrency worth $ 46,814 (Rs. 34,17,890) and Ethereum is the second most expensive cryptocurrency worth $ 3,418 (Rs. 2,49,742). In 2008, a white paper was published with the name "Bitcoin – A Peer to Peer Electronic Cash System" in the name of Satoshi Nakamoto. Bitcoin has jaw breaking statistics which are as follows:
In January 2021, the value of 1 Bitcoin was $ 34,622 US Dollar (Rs. 25,29,717) but in August 2021 value of 1 Bitcoin was $ 47,633 US Dollar (Rs. 34,80,388). In just 6 months its value increased by $12,011 US Dollar (Rs. 8,77,605).
The most impressive statistics i.e, in March 2020, the value of 1 Bitcoin was $ 6,484 US Dollar (Rs. 4,73,765) but in March 2020 value of 1 Bitcoin was $ 58,734 US Dollar (Rs. 42,91,502). In just 1 year its value increased by $52,850 US Dollar (Rs. 38,61,577). This is the reason why everyone around the world is crazy about Bitcoin and cryptocurrency.
As of February 21, 2021, Bitcoin had a market capitalization of $1072.21 Billion.
The user index for 2021 shows a 97% confidence in cryptocurrencies.
El Salvador has become the first country to accept bitcoin as a legal tender. Other countries like Japan, the United States of America, Norway etc. are permissive about cryptocurrency. However, countries like China, Thailand, and Germany have banned cryptocurrency.
Legitimacy of the Cryptocurrency in India: Best Corporate Lawyer Advice
On April 6, 2018, Reserve Bank of India (RBI) issued a circular prohibiting banks, and other entities regulated by it, to deal in virtual currency or provide any service to it and declared cryptocurrency or virtual currency as illegal.
But this impugned circular was challenged before the Hon'ble Supreme Court of India on the ground that the impugned circular infringed the fundamental rights of the citizens under Article 19(1)(g) read with Article 19(6) which states that every citizen has right to practise any profession of his choice or carry on trade, occupation or business but keeping in mind interest of general public and reasonable restrictions. Reserve Bank of India (RBI) competency to regulate cryptocurrency was also challenged. Therefore, Hon'ble Supreme Court of India in the case of Internet & Mobile Assn. of India v. RBI [W. P. (C) No. 528/ 2018 with No. 378/ 2018] set aside impugned circular issued by Reserve Bank of India (RBI) upon finding it infringing fundamental rights of the citizen. Further, the apex court held that the Reserve Bank of India (RBI) is well within power to regulate virtual currency or cryptocurrency.
Thereafter, Reserve Bank of India (RBI) through circular dated 31-5-2021 with title Customer Due Diligence for Transactions in Virtual Currencies (VC) cleared the air about previous impugned circular dated 06-04-2018 by rolling it back. However, banks and related entities were directed to proceed with due diligence according to norms for anti-money laundering (AML), Know Your Customer (KYC), Combating of Financing of Terrorism (CFT), and regulated entities' obligation under the Prevention of Money-Laundering Act (PMLA), 2002 and Foreign Exchange Management Act, 1999 (FEMA).
The Inter-Ministerial Committee (IMC) was formed by the government in November, 2017 to conduct study of the cryptocurrency or virtual currency. The committee in its report states that all cryptocurrencies should be banned. However, suggested that the government should introduce it's new virtual currency or cryptocurrency. The committee also drafted a bill named "Banning of Cryptocurrency and Regulation of Official Digital Currency Bill, 2019" which is pending in the parliament.
So, Cryptocurrency, at the time of writing this article, is not illegal in India. But it needs to be regulated with effective laws. This would be a new revolution in the history of currency. At present, there are no laws to regulate cryptocurrencies. As the famous saying rightly fits in the current situation i.e., with the good things, bad things come too. But there are fews laws which are capable of controlling illegal or notorious activities which are happening in the countries at present.
Following are the Laws that are applicable in case of fraud, scam and laundering using cryptocurrencies:
Information Technology (IT) Act, 2000
a. Section 66: Whoever, dishonestly or fraudulently, hacks and alters data of any computer, computer system or computer network, as mentioned under section 43 of the Information Technology Act (I.T.), 2000, shall be penalized with 3 years imprisonment, or with fine which may extend to 5 lakh rupees, or with both.
b. Section 66C: Any person who, dishonestly or fraudulently, uses password, electronic signature or any other unique identification feature of another person, shall be punished with imprisonment upto 3 years and with fine upto rupees 1 lakh.
c. Section 66D: Any person who by means of any communication device or computer resource cheats by personation, shall be punished with imprisonment upto 3 years and with fine upto rupees 1 lakh.
d. Section 66F: Any person who commits cyber terrorism shall be punished with imprisonment upto life imprisonment.
e. Section 74: Any person who intentionally publishes, creates or otherwise makes available a electronic signature certificate for any unlawful or fraudulent purpose shall be penalized with imprisonment upto 2years or with fine upto rupees 1 lakh, or both.
f. Section 84B: Any person who abets in commission of offence mentioned under the Information Technology Act (I.T.), 2000 shall be penalized with the punishment provided for the offence under this act.
g. Section 85: If any of the offences, mentioned in the Information Technology Act (I.T.), 2000, committed by any company, then director, manager, secretary or other officer of the company shall be deemed to commit the offence themselves, until contrary is proved, and be punished accordingly.
Indian Penal Code (IPC), 1860
a. Section 420: Any person who induces another person through cheating to deliver any property to himself or any other person, or to alter, destroy or make the whole or any part of a valuable security, shall be penalized with imprisonment upto 7 years and with fine.
b. Section 465: Whoever commits forgery by making false documents such certificate, signature seals etc. shall be penalized with imprisonment upto 2 years, or with fine, or both.
c. Section 507: Whoever carries out the offence of criminal intimidation by hiding his identity or through anonymous source or abode of the person from whom the threat comes, shall be punished with imprisonment upto 9 years, or with fine, or both.
How fraudsters are using cryptocurrency to defraud the public?
Hereinbelow are the following instances which shows how fraudsters are using cryptocurrency to defraud the public:
Malicious Website or Mobile Apps: Fraudsters create spoofs of websites or apps that resemble the original websites to give the impression to a visitor that they are in the original site. So, they could buy cryptocurrency or invest in cryptocurrency.
ICO Scams: ICO in ICO scam stands for 'Initial Coin Offering'. Initial Coin Offering happens when a venture is made to launch new cryptocurrency. Such cryptocurrency in their inception do not have any value but as soon as more people start to invest money, such cryptocurrency value starts to rise such as Bitcoin etc. So, fraudsters abscond after gathering lots of money through ICO.
Pump & Dump Scheme: Artificial hike in the market is created about any cryptocurrency to lure more and more public to abscond invest money in such cryptocurrency. After gathering the whopping amount, fraudsters with such money.
Bitcoin Mining: Bitcoin mining is a process in which a person has to solve an algorithmic puzzle and if he solves such puzzle, then he is felicitated with a few bitcoin and transaction fees submitted by other people. Therefore, there are various apps which ask its users to give their app 5 stars and watch advertisements while bitcoin mining is in progress. But this is completely bogus. Such apps earn money through advertising and also get a 5 star rating in the playstore but the user does not get anything except being duped.
Bitcoin Cloud Mining: Bitcoin mining requires high end technology to mine bitcoin. So, there are companies which take money and use their phone or laptop for mining. But, there are many bogus companies which take money from their client and in the inception provide their clients good profit but as soon as they are able to lure large numbers of clients such fraudsters abscond with the money of their client.
Wallet Scam: There are companies which give wallets service so that a person could keep their bitcoin safely. But there are bogus companies also which give wallets service but such companies abscond with their client's bitcoin after sometime.
Financial Crime: Currently, there is no authority to regulate cryptocurrency and it has wide reach, so there is high prospects that cryptocurrency may used to fund terrorism and other illegal activities.
Traditional Theft: There are also high prospects that such wallets where a person stores his/ her cryptocurrency may be hacked.
How to report A Cryptocurrency Scam ?
Hereinbelow are few methods to report such cryptocurrency fraud:
The Ministry of Home Affairs has promulgated national helpline number 155260 to prevent financial fraud due to cyber fraud.
Report can be also made in Delhi Police cyber cell through http://www.cybercelldelhi.in/bitcoin.html.
Phishing pages can be reported in https://safebrowsing.google.com/safebrowsing/report_phish/?rd=1&hl=en.
Any false luring image can be removed through https://support.google.com/websearch/answer/6302812?hl=en.
Any false luring advertisement can be reported through https://support.google.com/ads/troubleshooter/4578507?visit_id=1-636271695135559213-3548829408&rd=2.
How to Prevent Cryptocurrency Frauds ?
Hereinbelow are some precautions that you need to keep in a mind while dealing with cryptocurrency:
When you visit any official page of any cryptocurrency related website, check whether the lock in the website bar is locked.
Check whether the name and the logo on the website, related to cryptocurrency, you have visited.
Do not place full trust on tweets and social media messages.
Beware of spam emails. Also, before emailing verify the email from the official website. If email is not available in the official page of a company, then contact that company and verify the email.
Download any app from the official website of the company. If the app is not there in the official website, then before download read the reviews in the playstore.
Read the description of any app in the playstore before downloading it because if the app is fake then there might be high chances that there would be grammatical mistakes and also incorrect description.
Conclusion
Cryptocurrency is the future of the upcoming financial world. The Indian government should not make the mistake of absolutely banning cryptocurrency as this step would leave India behind from other countries and will also hamper its progress. Cryptocurrency gives us more transparency and reliability and utilises less resources as compared to the current financial system. Most importantly it decentralizes the financial system. Various scam have been unveiled which showed how various governments took benefit of the centralized monetary for their personal wrongful gain i.e, corruption. But it also true that through cryptocurrency terrorism funding, money laundering etc. becomes more easy. That's why strict laws are required to be promulgated to prohibit illegal or notorious activities.
Authored By: Adv. Anant Sharma & Satwik Sharma