Appreciation of Evidence & Grounds of Bail in a Cheating Case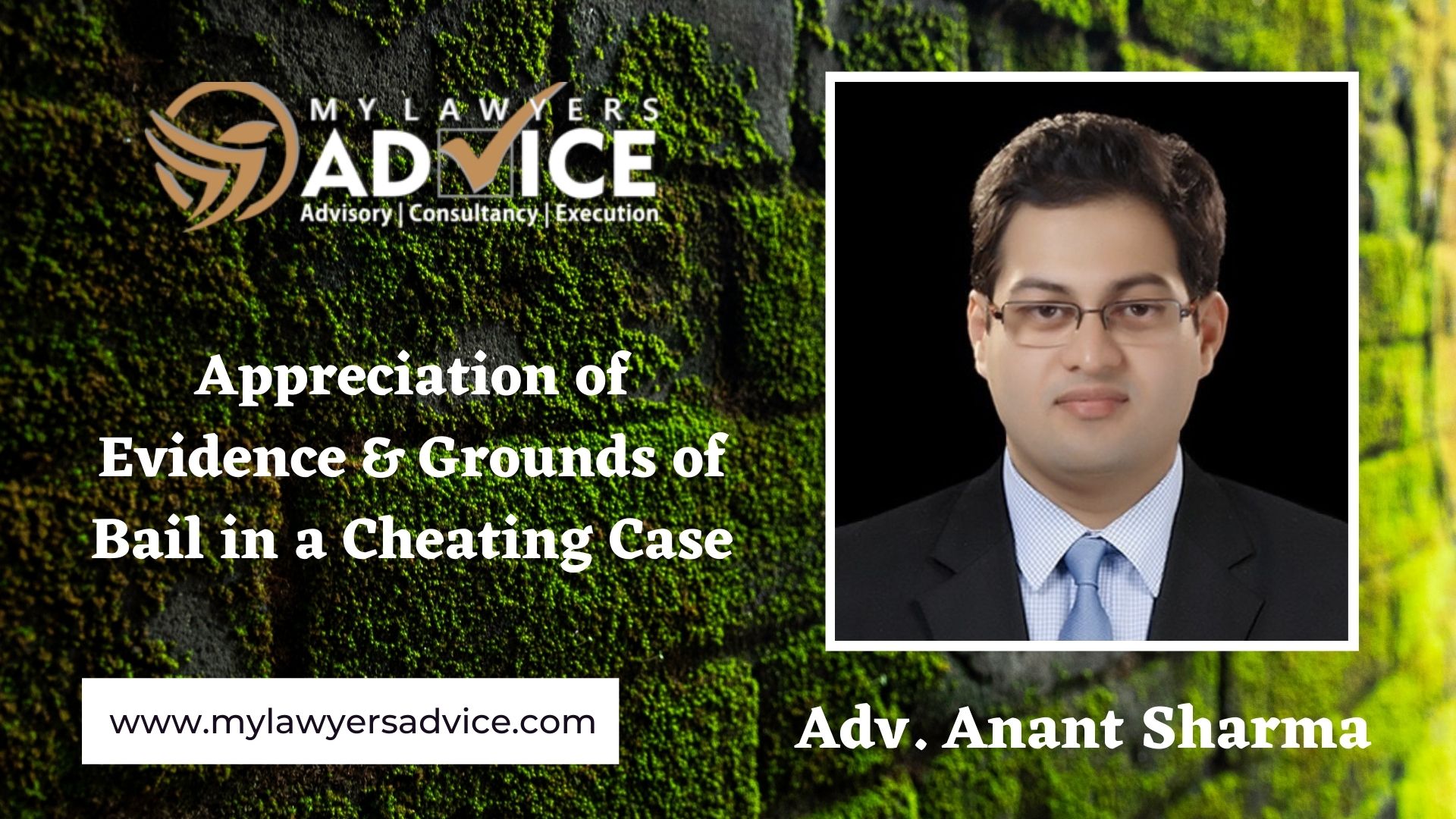 Section 415 of the Indian Penal Code (I. P. C.), 1860 defines Cheating as when any person, by betraying any person, dishonestly or fraudulently induces such deceived person to deliver any property, or to do or omit to do any act that he would have not done if he was not deceived, and thereby such deception could cause or likely to cause damage or harm to deceived person in mind, body, property or reputation. Section 417 penalises cheating with imprisonment of upto 1 year, or with fine, or with both.
Section 416 of the Indian Penal Code (I. P. C.), 1860 talks about cheating using personation. Whoever cheats another person by painting different image or personality of themselves, who they are not in reality, in mind of such cheated person. Such act is punishable under section 419 of the Indian Penal Code (I. P. C.), 1860 with imprisonment of upto 3 year, or with fine, or with both.
Section 418 of the Indian Penal Code (I. P. C.), 1860 punishes those in cheating cases who owe a special responsibility to protect the interest of those with whom they are transacting. Section 420 of the Indian Penal Code (I. P. C.), 1860 lays down provisions for punishment of those acts of cheating due to which there is destruction or delivery of property or destruction or alteration of any valuable security. Simple Cheating is covered under section 417 of the Indian Penal Code (I. P. C.), 1860.
Section 415 – 420 of the Indian Penal Code (IPC), 1860 deals with Cheating. Here in this article, grounds to obtain bail easily upon falsely implicated under any of the provisions for cheating, thereof.
Grounds for Bail are as follows:
Gender, Age or Medical Health Condition: If the accused is suffering from serious illness or he is of extreme age or he is minor or female, the court on any of such grounds may grant bail to the accused. Section 437(1) of the Code of Criminal Procedure, 1973 provides to grant bail as special protection in non-bailable offence to such person who is under the age of sixteen years or such a person is a woman or such a person is sick or is infirm. In the case of Geeta Devi v. State of Rajasthan [SLPs (Crl.) 1827/ 2018], both accused were women. They were accused of cheating, forgery etc. relating to fraudulent dissolution of partnership firm in which complainant and accused were partners and they were also closely related to each other. They were also accused of misappropriation of funds or assets of the said firm, etc. The Hon'ble Supreme Court granted bail to both accused on the ground that they are a woman. Also, they agreed to cooperate in the investigation as and when required.
Witness Tampering: Where there is no danger to witnesses of being tampered, in such a case the court may grant bail. However, upon suspicion that the accused using coercion, undue influence or threat, may render the witness to step down or to retract from his statement. Section 437(3)(c) of the Code of Criminal Procedure (Cr. P. C.), 1973 states that the court should ensure that the accused does not tamper with the witness as well as put this as a condition while granting bail. In the case of Jinofer Kawasji Bhujwala v. State of Gujarat [Cri App. No. 460/ 2020], a letter of intent was issued to ANL for construction of Vessel Traffic And Port Management System (VTPMS) and thereafter a concession agreement was entered among State Maritime Board, State Government and ANL. The VTPMS became operational in August 2010. In 2018, a dispute arose regarding the cost incurred by the ANL. The accused, appellant hereto, was arrested. After the charges-sheet was filed, the trial court denied bail to the accused. Then, the Accused presented a bail plea before the Hon'ble High Court of Gujarat which denied the bail plea but held that if the trial does not commence within the period of 6 months, then the accused can make a fresh application for bail. 9 months passed after the filing of charge-sheet but no trial commenced. Therefore, the Hon'ble Supreme Court granted bail to the accused after ensuring that the accused will not evade the process of justice by tampering with a witness. As in the present case, the prosecution mostly relied on documentary evidence, so there are very few chances of witness tampering. Moreover, if the accused tried to break any condition, then provisions are there to cancel his bail.
Conclusion
Gender, age or illness and Witness tampering are very effective ground for bail and this thing must be clear after perusing aforementioned fact and case laws. These grounds are used in maximum number of cases.
Authored By: Adv. Anant Sharma & Satwik Sharma